When I was about fourteen, friends of the family unexpectedly gifted me a week with a summer backpacking camp. We were to hike every day, sleep in tents, cook outdoors, and end miles from where we started.
This was the first time my dad offered me his collection of hiking and backpacking books to read. I remember that most of them were engagingly, even humorously, written. I felt welcomed into a new world, where people argued good-naturedly about the merits of leather versus canvas boots; a realm where, even though sleeping bags were rejected for weighing extra ounces, serious campers accepted the weight of a camp stove rather than strip the forest of its natural deadwood.
Most meaningfully, I felt that I was entering a society in which my dad was already a member. Partly despite, and perhaps partly because of, the independence of reading alone, I felt increasingly grown-up in my appreciation of things my dad loved; developing a greater affection both for backpacking and for him.
These memories surfaced recently after watching a "Love Your Garden" show with my kids. I hadn't expect them to love the show. I thought maybe they would be bored. I wondered whether my wife and I were being a little…intense, asking them to enjoy a grown-up hobby. (Were we brainwashing them?) But our children did love the show, getting really excited when they recognized plants from our own gardens.
The way our children wanted to talk with us about the show afterward reminded me of how I felt after reading my dad's books. The more I've thought about it, the more convinced I am that this is another way way to encourage their imaginations.
By sharing books, movies, and music that we enjoy, maybe we're doing more than influencing their tastes and imposing our style on the home. Maybe we're encouraging them to feel they can join the bigger world, with a starting place, and the courage to imagine themselves in OUR place someday.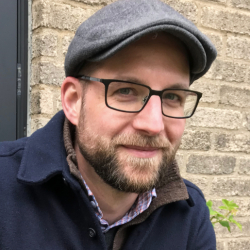 Latest posts by James D. Witmer
(see all)