I believe that one of the most precious things we can give our children is a sense of belonging. Christians rightly make much of not belonging to this fallen world, but Scripture does not say we are a nomadic, homeless people. No, we are strangers in a strange land, but we are pilgrims – we are citizens of another kingdom. Our road is not endless, it has a destination.
Or as Tolkien wrote, "Not all who wander are lost."
To put it another way: We can't revoke our children's citizenship in Vanity Fair, without offering them a better home, and expect them to remain aloof. The human soul cannot stand to be untethered – it will float away in search of a tree to tangle in.
This is a massive topic, and the more challenging because – while we can tell our children all about God's offer of adoption into Abraham's family, communion's invitation to feast with God Himself, the mystery of Christ and His bride, and countless other truths of belonging – the thing itself cannot be told. Belonging can only be known though experience.
Thus, by devious routs I bring you back again to the topic of stories. Because: Stories experienced together can create a shared language – can hardly do otherwise – and this shared language can be like thread that stitches our parallel lives into a quilt of togetherness.
When someone in my house is accidentally hurt, and uses Winnie-the-Pooh's protest, "You missed the balloon!" that's a stitch in the quilt.
When an elderly, believing neighbor passes away, and we refer to her "crossing the dark river," that's a stitch in the quilt.
When we describe an evening of hospitality to a young couple as being "heralds of the mended wood," that's a stitch in the quilt.
When I look up into an apple tree festooned with children and, for no obvious reason, scold, "You monkeys, you! You give me back my caps!" that's a stitch in the quilt.
Consider, if you understood any of the references above, the glimmer of empathy you felt. Notice how it made you feel, perhaps only a little, that you and I shared something good – good enough to keep you interested, and keep you reading. Or you may even have felt that my family were "your kind of people."
That's the power in a language of shared stories. That's a power we have at our disposal to give our children a place of belonging. And that's really my greatest hope for relating to my children as they grow; that they will feel we shared something good enough to keep them interested, and keep them (even figuratively) coming home.
---
Featured image by freepik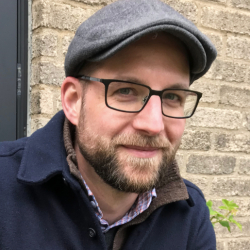 Latest posts by James D. Witmer
(see all)