The thought comes in various moments; sitting at dinner, driving across town, lying awake at night: God has entrusted me with the care of a beautiful woman, two precious girls, and a dear little man.
What the heck was He thinking?
Please, someone tell me I'm not the best we have. Isn't there someone wiser, stronger, more patient, waiting on the bench? Someone the coach could call in for important plays?
I seems like there should be, but there isn't. I'm all they have. And I'm coming to believe that God purposely arranged it thus. Being man of the house is a constant exercise in trying to fill spiritual and emotional needs I simply can't meet. We're lucky if I get close enough to wave.
It takes faith to throw myself into that gap, over and over. But when I do, I learn things about God's goodness that surprise me.
Take as an example what happened during an attempt at family worship some months ago:
I wanted to try singing together – a Sunday-school type song, and maybe a hymn or praise chorus. But the kids weren't feeling it. Their behavior showed it, and I got frustrated. I was stomping off to put my guitar away, feeling like a failure, when my wife asked, "Why don't you write something that will engage them?"
Oh, sure. Just like that, huh?
I must have looked at her like she was crazy. But I sat back down and sang the first thing that came into my head: "The cow in the field praises the Lord, she goes "Moo!"
To my amazement, the kids all smiled and started singing along. I improvised a repetitive little refrain, and the requests started coming for horses in the barn, and kitties on the porch, and monkeys in the jungle. We were singing praise together. We were laughing together. It was clear that the children felt engaged on their own level; that they felt loved. When I finally called an end, I did so with the grateful awareness that God had met us in that scary place beyond my abilities.
Since then, we have discovered Slugs & Bugs, Randall Goodgame & Andrew Peterson's musical extravaganza of holy silliness. This music has played in our home for untold hours, and brought joy by the bushelful. It has sparked good conversations about the Lord, hilarious floor-rolling giggles, and sweet snuggle times. I refuse to even contemplate a road trip without it.
Judged by practical criteria, Slugs & Bugs should have erased all memory of my little ditty. But it didn't. "The Cow Song" is what my two year old "plays" on his Wal Mart guitar. It's often what the girls sing to themselves while playing blocks. It's a staple of family worship time. And my kids asked repeatedly until I used the family iMac to record a version we could add to their iTunes playlist.
The surprising lesson is this: My children's need for excellence is surpassed by their need for relationship. I want to give them awesome stories, the best music, and great teaching. But they also need something home-spun. Something with my smudgy fingerprints on it. Something they know was made because of my love for them.
It's just God's way. It's scary, but it's good.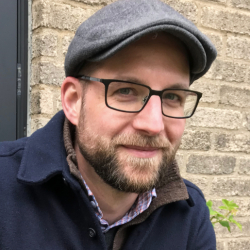 Latest posts by James D. Witmer
(see all)