Everyone knows that kids say – and do – the darnedest things. To have children is to be a connoisseur of shenanigans. And while sometimes hilarious, these childish hijinks are not always wise, or constructive, or even kind.
Faced with the fallout of some of my children's unregulated creativity, I've often said something like, "I just can't imagine what he (or she) was thinking!"
But that's not really true.
I can imagine the shock of a hobbit plucked from his cozy hole and packed off with a troop of dwarves.
I can imagine the exhilaration of a young rabbit on first discovering the taste of lilies.
I can imagine the loneliness of an orphaned ten-year old wizard kept in an unloving home with self-obsessed, magic-hating relatives.
I can imagine the exasperation of an African grey parrot sharing the house with a hyperactive dachshund.
I can imagine the numbing terror of a young confederate soldier under cannon fire for the first time.
I can imagine quite a lot. My imagination has been stretched, nourished, and exercised until there is little I can't imagine.
If I was as honest as I am impatient, I would say, "I don't want to bother imagining what he was thinking, I just want him to never ever do it again, ever."
That's a convicting thought. But it's wonderful, too. Even when I'm exasperated and selfish, I have the option to slow down and imagine what my children must be thinking and feeling. And that gives me a chance to really teach them, really correct them, and really love them.
This is a big reason I want very much to foster holy imagination IN my children. When it comes time to choose: Whack my sister? Or love her? I want them to have strong imaginations, able to understand what things might be like from her point of view.

---
Featured image by Paul Boekell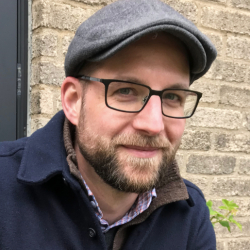 Latest posts by James D. Witmer
(see all)