"'Where's Papa going with that axe?' said Fern."
If you've read it, you recognize it. The opening line of Charlotte's Web ranks among my very favorites. Behind the beloved story of best friends Charlotte and Wilbur is the man who created them: EB White. There are so many features of Charlotte's Web that speak loudly about White's real life: the pig, the farm, the barn floor, the spider, and a love affair with all of them.
Elwyn Brooks White was born in 1899 in Mount Vernon, New York, the youngest of six children. He was a fearful child who did not enjoy school; he preferred the quiet companionship of animals. He kept chicks, lizards, and pigeons as a boy. He began writing very early, both in his daily journal and other endeavors. At the age of nine, White won a prize from Woman's Home Companion magazine for a poem he wrote.
White struggled with his health as a young boy, especially with allergies. One of the doctors' proposed treatments was to immerse his head in cold water every morning. As a result of the youngster's health problems, the White family decided to spend some time in Maine. Every year, for the remaining years of his childhood, EB went to Maine every August with his family.
White entered Cornell for university studies and graduated in 1921. During his college years, he was christened with the nickname Andy, in keeping with a Cornell University tradition. It was a name he would gladly answer to for the rest of his life. He wrote for the college newspaper and made friends with William Strunk, his professor who would later write The Elements of Style. Years later, in 1959, White would update and revise the book, which is still regarded as one of the best manuals for written English. "I believed then, as I do now, in the goodness of the published word: it seemed to contain an essential goodness, like the smell of leaf mold," White would later say.
After he graduated, White went through a string of jobs writing for different publications: United Press, American Legion News Service, The Seattle Times, and finally, The New Yorker. He became known around the New Yorker office for his devilish sense of humor. He met his wife, Katharine, working there. Katharine and Andy had a son, Joel, in 1930. When Joel was just a year old, Andy said in a letter, "To a writer, a child is an alibi. If I should never in all my years write anything worth reading, I can always explain that by pointing to my child."
As his new life as a married man and young father began, EB White kept up the pattern of family summers in Maine. After a few years of renting, he and Katharine found a place to buy in 1933. They paid $11,000 for their farm at Allen Cove, a source of joy for the rest of their lives.
In 1945, White's first book, Stuart Little, was published. It marked the first collaboration between White and Garth Williams, whom White knew as a cartoonist for The New Yorker. Though White received some mixed reviews from grown-ups, children overwhelmingly loved Stuart Little, and fan mail began to pour in.
It would be seven more years before the world would meet a pig named Wilbur and his loyal friend, Charlotte. In his journal, White describes the inspiration for the heroine (who he first misidentified!) thusly: "Aranea cavatica: a plain grey spider that prefers shady situations. It lives in houses and barns in northern New England. Its webs are sometimes very large." And so, Charlotte's last name would be Cavatica.
White worked away at his typewriter — he had a love affair with manual typewriters — in the boathouse at Allen Cove. Charlotte's Web took shape into a glorious reminiscence of Andy's childhood years in the barn, seeking solace amongst his friends, the animals. "The barn was very large," he wrote. "It was very old. It smelled of hay and it smelled of manure. It smelled of the perspiration of tired horses and the wonderful sweet breath of patient cows. It often had a sort of peaceful smell—as though nothing bad could happen ever again in the world."
Charlotte's Web was published in 1952 and won a Newbery Honor from the American Library Association. The book remains a favorite among children; it ranked number one on a poll of young readers as recently as 2012.
White said of the book "I just want to add that there is no symbolism in Charlotte's Web. And there is no political meaning in the story. It is a straight report from the barn cellar, which I dearly love, having spent so many fine hours there, winter and summer, spring and fall, good times and bad times, with garrulous geese, the passage of swallows, the nearness of rats, and the sameness of sheep." (Letters, 1971)
When he recorded the audiobook for Charlotte's Web, it took White seventeen takes to get through the last chapter because of tears.
The Trumpet of the Swan, White's third book for children, was published many years later, in 1970. By that time, White was a winner of the Presidential Medal for Freedom as well as the Laura Ingalls Wilder award.
Though he published many pieces for adults, White remains best known and loved for his contributions to children's literature. He did not see children as anything less than the most discriminating consumers: "Anyone who writes down to children is simply wasting his time. You have to write up, not down. Children are demanding. They are the most attentive, curious, eager, observant, sensitive, quick, and generally congenial readers on earth… Children are game for anything. I throw them hard words, and they backhand them over the net."
EB White died in 1985 and is buried in Brooklin, Maine, where Allen Cove still stands.
A few years ago, I was among those who were captivated by a story of a new real estate listing. The first line was almost as captivating as the opener of Charlotte's Web: "The swing still hangs by the barn doorway." Sure enough, the farm at Allen Cove was for sale. Since then, the farm has been transferred into loving hands, and it is on the National Register of Historic Places.
"All that I hope to say in books, all that I ever hope to say, is that I love the world. I guess you can find that in there, if you dig around." – EB White
For further reading, I recommend the following resources:
"A Neighbor's Farewell: Remembering E.B. White"
The NY Times article on the sale of Allen Cove
The Story of Charlotte's Web: E. B. White's Eccentric Life in Nature and the Birth of an American Classic
Some Writer!: The Story of E. B. White
A Boy, a Mouse, and a Spider–The Story of E. B. White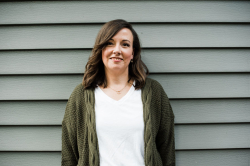 Latest posts by Kelly Keller
(see all)