I have a confession: This week, for the first time, I sat down with my three kids and read multiple chapters of The Lion, The Witch and The Wardrobe.
This feels like a confession because it feels years overdue. I've been excited to share The Chronicles of Narnia with my kids for as long as I can remember. I've pushed other parents to read 'Narnia to their kids. And it feels like my book-loving friends have read not only 'Narnia, but also The Lord of the Rings, Pride & Prejudice, Moby Dick, the entire Bible (with Leviticus twice), and the collected works of Charles Dickens to their kids by time they were four years old.
But not me. I tried reading 'Narnia several times, and my kids always thought it too boring, or too scary, and sometimes both at once.
I felt disappointed about this, and also guilty. I had a mental image of SD Smith (and hundreds of dads like him) sitting down every night, pipe lit, reading amazing literature to his children, who listen with rapt attention and quiet, joyful wiggles.
The message I got from this never-helpful practice of comparing myself to others was, "You're a lousy dad." But what was I doing wrong? Should I buy a pipe?
It seems that what I was doing wrong was panicking.
This week's reading began without incident. We needed a new book. I suggested two, and this time they were more curious about "Narnian" than they were scared by the word witch. I started reading, they loved the Pevensie children, and just like that we got both Lucy and Edmund (spoiler alert!) safely into and out of the wardrobe.
Ten years from now, it probably won't matter that my oldest girl was already seven the first time she read 'Narnia. I hope that by then I'll be a lot more comfortable with a steady, relaxed practice of offering good stories over and again until something clicks.
——————————————————
Featured Image by Paul Boekell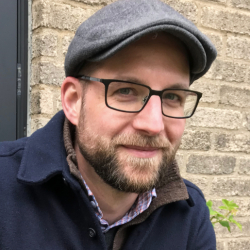 Latest posts by James D. Witmer
(see all)