My first opportunity to read Ken Priebe's Gnomes of the Cheese Forest and Other Poems was in preparation for this review, and I found myself forced to read it alone at the end of a long day. That's hardly a fair reading for an illustrated collection of children's poetry, but I grimly powered ahead because I'd promised Ken a review.
The titular poem was first, and I smiled as I read it. The second poem, "Come to the Feast," was a pleasantly-pitched thinker. Then came "Thimble-Smith, Thorax, and Thedd"—and I smirked.
By the time I got through "Solomon the Smackle-Bat," "The Wimzy," and "The Cricket Watcher," I was snickering. Another handful of poems—some amusing, some thought provoking—passed and then, as "Clarence the Cowardly Vampire" brought me to full and honest laughter, I suddenly realized I was eleven poems in and thoroughly enjoying myself.
Gnomes of the Cheese Forest is about what you'd expect to get if you put The Brothers Grimm, Edward Lear, and Shel Silverstein in a blender. That is, the Grimms' willingness to peer into shadowy places under beds and behind closet doors (at times becoming deliciously creepy), Silverstein's pin-sharp wit, and Lear's exuberant nonsense.
The illustrations are all done in black ink, resembling Edmund Lear more than Silverstein in that the illustrations, and even their arrangement on the pages, often convey layers of meaning beyond the words of each poem. The biggest difference from Lear is that instead of whimsical botanicals Priebe favors poetry and illustrations of monsters—funny monsters, scary monsters, creepy monsters that turn out to be helpful, monsters that should be scary but aren't—he just loves monsters.
It's not only monsters, though. Priebe clearly loves the natural world as much as he loves the paranormal and, even more, I think he loves the children who will read these poems. Check out the book trailer below, and then go discover some Gnomes of the Cheese Forest for yourself.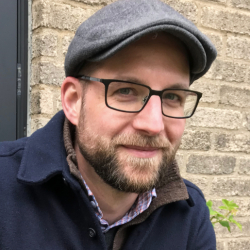 Latest posts by James D. Witmer
(see all)