It's a truism that caring for children takes a lot of work. I once heard someone say that we can best describe that work as hospitality. We feed them, we provide clean towels, fresh soap, laundry service, complimentary transportation, and many other gestures of hospitality, in hopes that they will feel welcome and wanted. We tell them true stories about a King, and His kingdom that is already here and yet still coming, longing in faith for them to believe that they belong there, beloved by Him.
As I've already said, all that hospitality takes a lot of work, and not just effort either— it takes prayer, and emotional presence, and even… even organization. There are so many things to be said about the love of God, and the depth of Scripture, and everything else, that any grown-up could be forgiven for wishing sometimes that there were allies who could help sift through the golden haystack of opportunities and pluck out something manageable.
That's why Story Warren exists. And, this is why I'm happy to tell you about two books by our friend Scott James, just released by B&H Publishing. These are family devotional books, and they are designed to equip and support as you welcome the kids you love into the seasons of Christmas and Easter.
The first book is titled The Expected One, and it provides a helping hand through the season of Advent, leading up to Christmas. It's a daily devotional, with 25 readings beginning December first. James highlights the season of Advent as more than a time of longing (although it certainly is that), but as also a time of expectation for the fulfillment of promises. That's why his twenty-five passages of Scripture are organized along two axis. First, as you might expect, they trace the thread of God's plan for salvation, beginning in the garden of Eden through to the arrival of Jesus in the epilogue: "Promises Kept." But the readings are also organized into six categories for the promises God made throughout the Bible, beginning with the Promise of His Coming, and ending on Christmas with the Promise of His Eternal Reign.
The second book is titled The Risen One. This is a weekly devotional (with suggested daily readings in the margins) that starts ten weeks before Easter Sunday and carries through the historical Church seasons of Epiphany, Lent, Easter, and Pentecost— from "Christ Has Come," through "The Church Alive."
In these books, James founds every reading on a short selection from the Bible. Then he offers a brief meditation that connects the reading to the larger theme of God's plan. Following this, he supplies a few discussion questions geared toward engaging both the minds and the imaginations of children. He then offers a final question for reflection, each with enough meaty substance for the whole family to chew on, and an insightful "Prayer Point."
Best of all? Scott James's family devotionals accomplish all of this with remarkable brevity, which I believe is a necessary— and often-missing— element of kindness in our hospitality toward children. Tell your beloved kids about the true and loving King, and do it concisely so that the good news is not a burden on their tender, wiggly persons: Share with them The Expected One, and The Risen One.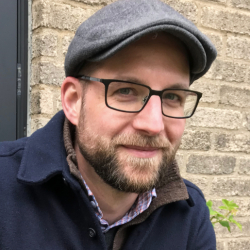 Latest posts by James D. Witmer
(see all)