A winter storm hit my family this week—while I got cold rain. I'm grateful that God provides water for the land in his own ways, but I wish mine had been snow! I've lived in the South for almost seven years now, and the itch to shovel a driveway rears its head from time to time. I know that's weird, but it's true.
Around the Web
How to Pray into the Peace that Passes Understanding
Linda Evans Shepherd looks to Job's words for the peace of God.
The first beams of dawn poured through a naked pane of glass as I lay listening to my daughter's mechanical breathing. I rubbed the sleep from my eyes and starred up at Laura's heart monitor.
Its glowing red pulse told me she was still alive. Sort of.
I sat up from the hard plastic mat in my window seat bed and stared down into an inner-city neighborhood.
Read more
See the Cat: Three stories about a dog
Megan at Redeemed Reader reviews an easy reader.
A dog on a rug is quite understandably aggravated by the narrative narrator through three very short stories for beginning readers. Brilliant, clever, and hilarious.
Read more
Surviving vs. Beholding
Anne Kerhouolas looks at her kids—and her God.
If I'm not careful, I can get through a whole day without really looking at my kids. Sure, I see them running down the hall and throwing blueberries at one another, but I can be so busy and preoccupied with whatever else I'm doing, that I don't really see them. I don't enjoy their triumph of climbing the rock wall or notice the deep empathy of one comforting the other. I can approach motherhood with a survival mindset, just trying to make it through another day.
A similar phenomenon happens with God.
Read more
Faith Is Forged in Crisis
Jon Bloom looks at how crisis shapes our faith.
The Bible is a blood-earnest book. It's a book about reality. And reality, as we know all too well, is often brutal and bloody. The Bible doesn't sugarcoat this fact at all, but describes reality with disturbing forthrightness. Much of Scripture was written during brutal, bloody times by embattled, distressed, weary, even depressed authors. And at the pinnacle of the Bible's story, at the core of the Bible's message, is the Son of God dying a bloody death on a brutal Roman cross.
Read more
Around the Warren
A Few of My Favorite Things
Julie Silander looks at her favorite things.
I hadn't talked with our eldest daughter for several days when she called and asked what we'd been doing. I paused, trying to muster up an answer of substance. Coming up empty-handed, I winced and responded, "The same thing I was doing last time we talked. Trying to gain some semblance of order around the house." Again. And chances are good that the next time we speak, the answer will be the same.
Read more
Imagination, Instruction, and a Cheery "Robot" Quartet
Loren Eaton reviews a picture book that teaches with excellence.
It's easy to find children's books that are didactic; plenty of authors want to instruct about the alphabet, teach how to count, or tell little ones that bedtime is a Very Good Thing (especially for frazzled parents). It's also not hard to find children's books that are dynamic; writers love to offer stories arranged in unorthodox ways and illustrators adore painting striking pictures. The trick, though, lies in finding titles for little ones that provide both instruction and artistic excellence. Bob Staake's picture book Hello, Robots is just such a one.
Read more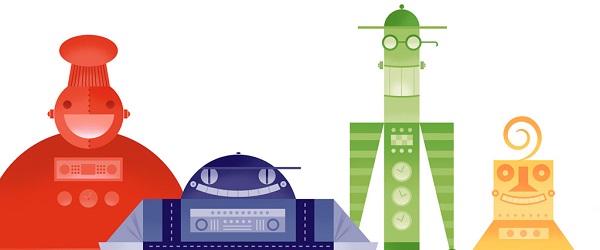 Something to Do with Your Kids
Check out these fun file folder games that help kids learn.
Something to Watch
Ever wonder why eggs get hard when you cook them?
Thanks for reading. We're on your side. 
–The Story Warren Team

Latest posts by Carolyn Clare Givens
(see all)