A few weeks ago I had the chance to see a screening of the biographical documentary Many Beautiful Things, about the life of Lilias Trotter. Lilias (from England, 1853-1928) was a talented artist early in her life, showing promise from a young age. She was mentored by John Ruskin, who at the time was one of the most celebrated artists in England. When Ruskin saw her raw talent, he told Lilias that she someday might be "the greatest living painter and do things that would be Immortal."
After Ruskin mentored her for a number of years, Lilias felt the call of the Holy Spirit to dedicate her life to missions, specifically to North Africa. She applied to a program to be sent, but due to her weak health, she was rejected. Since she came from a wealthy family and had the ability to support herself, she set out anyway, with two friends — to a harsh, unknown land with taxing weather and a foreign tongue. She stayed there until she died at the age of 75, having given her life for the women and children of the Algerian slums.
Ruskin never recovered from Lilias' decision to forego a life dedicated to painting. He implored her to pursue her art with the same passion with which she embraced missions. When pressed, ultimately she could not do it. She felt she had to go to Africa and leave her beloved mentor behind. It was not an easy choice; it came through much anguished prayer. Ruskin mourned her decision of mission over art.
But here's the thing Ruskin didn't know: Lilias wasn't making a choice between art and missions. If you read her journals, they are filled with beautiful sketches, paintings, and inspirational, decorative prose. She continued to see the world with an artist's eye, whether it was the people she ministered to or the landscape she grew to love.
No, as the filmmakers point out, she did not choose between art and mission. The choice Lilias made was between fame and obscurity. Ruskin had declared her to be his student with the greatest potential for acclaim. People would celebrate her art; she would be famous in England — perhaps all over the world. Instead, she moved with two friends to a land she did not know, to minister to people she could not communicate with, in the spirit of a religion that was strange to them.
What an absolutely counter-cultural idea today: choosing obscurity. To take the less celebrated, unrecognized path in our world is unheard of. Choosing to diminish, to be brought low, to become less — this is greatness in God's economy.
As Lilias put it:
"Surrender–stillness–a ready welcoming of all stripping, all loss, all that brings us low, low into the Lord's path of humility–a cherishing of every whisper of the Spirit's voice, every touch of the prompting that comes to quicken the hidden life within: that is the way God's human seed-vessels ripen, and Christ becomes "magnified" even through the things that seem against us. "Mine but to be still: Thine the glorious power, Thine the mighty will."
Many Beautiful Things was released (on DVD and digitally) on March 8 in celebration of International Women's Day. Find more information and watch the trailer here.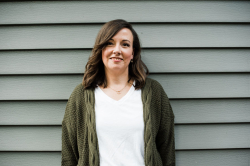 Latest posts by Kelly Keller
(see all)