Last month we took a trip together, which gave me some extended time with our older kids. I asked them what they would say if I asked them about all-time classic picture books of their childhood. It was interesting to observe the difference between them and my younger kids; it almost appeared that they'd had an utterly different upbringing, even though there were just shy of eight years between oldest and youngest.
Besides the obvious choices you've heard me talk about (Robert McCloskey, Virginia Lee Burton, and those you'd find on the classics shelf in any bookstore), here are some favorites we treasured together in my kids' younger years.
---
Zin! Zin! Zin! a Violin, by Lloyd Moss. This rhyming book is an introduction to the various members of an orchestra. It's also a counting book of sorts; as the instruments appear, they form a duo, trio, quartet, and so on. A Caldecott Honor book, and very beloved by my little boys and girl!
Owl Babies, by Martin Waddell. LOOK AT THE BABIES:
We must have read this a thousand times. These three little owls are concerned because their mother is away, and they wonder about her. And then, all at once, she's back! A joyful reunion ensues. I fell in love with this book when my children's lit professor read it aloud to us in class and gave each owl baby their own little voice. I still occasionally give it as a baby shower gift. It's truly a favorite.
Corduroy, by Don Freeman. Of course. The classic tale of a little bear who wanders the department store at night. (Do children even know what department stores are anymore?!) There is a small series here, but the original is still the greatest. When I asked my boys what their memories were of books, the youngest guy mentioned this one.
Knuffle Bunny: A Cautionary Tale, by Mo Willems. This was suggested to you by my youngest, now fifteen. At one time, she was our own "Trixie," carrying around a pink spotted monkey named Oliver. We love everything about this book, from the simple story to the photographs overlaid with drawings. This was our first encounter with Mo Willems, who now has his very own dynasty filled with Elephants, Piggies, and Pigeons.
Trashy Town, by David Clemesha. This was the book we read a thousand times when my boys were all about trucks. It has a little refrain that I still remember, "Dump it in, smash it down, drive around the Trashy Town!" I'm pretty sure we had some toys named after Mr. Gilly.
---
This post originally appeared at On the Common.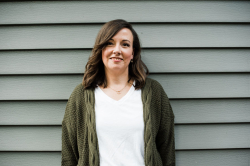 Latest posts by Kelly Keller
(see all)