Our oldest son finished the Harry Potter series last year. When he finished each book, we'd have a movie night for just the two of us. It was a fun process for both of us, and now his next-youngest brother is following suit.
All the boys — we have four — have been taking turns working their way through the story. Although each novel has hooked them, they haven't been pulled into the overarching narrative of the series the way that I was. I am trying to be patient with that and not impose my book-reading goals on them. So far, it seems like they want to visit Hogwarts and then go somewhere else for a while.
My youngest son, aged nine, had not yet picked up the first book when his big brother finished number six. The night we watched the movie, the littler guy thought he would be crafty and sneak downstairs to catch a peek at the movie. He stayed hidden, and I never knew that he had done so.
I found out about his sneakiness when he began having terrible nightmares each night. He had seen a dreadful scene involving Dumbledore and the Drink of Despair. It's a scene when even I hide my eyes at times. So it should come as no surprised that my poor little guy, having wandered into a scene for which he was ill-prepared, was marked by what he saw. Each time he closed his eyes at night, he saw it all over again.
We suffered through this together, he and I. We talked through scary things. We prayed. We remembered why Mom and Dad make those rules about who can and can't watch certain things (it's not to deprive you; it's to protect you). But it was months of disrupted bedtimes before we got back to sleep every night.
Finally, one day he approached me with book one in his hand and asked if he could read it. I agreed. He eagerly followed up, "I think I'll be OK if I know how the story ends. Part of why it's scary is I don't know what happens after that scene." He was prepared to blaze his way through six books to put the demons in his mind to rest.
Stunned by his insight, I returned to cleaning the kitchen and wondered how my life would be different if I walked confidently in my knowledge of The Ending.
And I heard a loud voice from the throne saying, "Behold, the dwelling place of God is with man. He will dwell with them, and they will be his people, and God himself will be with them as their God. He will wipe away every tear from their eyes, and death shall be no more, neither shall there be mourning, nor crying, nor pain anymore, for the former things have passed away."
And he who was seated on the throne said, "Behold, I am making all things new." Also he said, "Write this down, for these words are trustworthy and true."
(Revelation 21:3-5 ESV)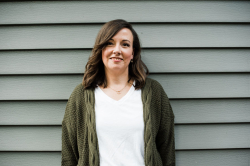 Latest posts by Kelly Keller
(see all)