I can hardly believe it, but this year marks ten years since I've been trying to write regularly in some way, shape or form. The post below is from my first year of blogging, 2006. My life is so different now. I couldn't possibly get through all our household laundry in a day now. People have grown, and so have their clothes. I think I used to do seven loads each Monday. Now much of the laundry is delegated to the children, and my laundry tasks fall more in the category of "reminding to finish," rather than actually doing it. Most notable of the differences from the time this was written: we have a daughter now. She came along two years after I wrote this.
We still frequently — but not every week — have spaghetti on Mondays. Sometimes I even get some homemade bread made. I hope you can join us sometime. — Kelly
I am a creature of habit. I used to pride myself on my spontaneity; however, having four small children has made me reliably unspontaneous. As a result, Monday is one of my favorite days of the week. Why? Because it's a day that is filled with routine.
On Monday morning, the boys pull the sheets off their beds and bring them to the washer. They drag their laundry out of all the corners of their rooms (mostly the hamper corner) and bring it to my room. Then the laundry sorting begins. Or should I say…the laundry sorting/wrestling match begins. If I am in the room, it's laundry sorting. If I leave the room, it quickly descends into chaotic clothes-pile wrestling.
Then, all day long, amidst meals and school and all the other routine tasks that make up my day, I am summoned by the buzzer to the laundry room. More to dry. More to wash. More to fold and hang. More to iron (hmmm….that's supposed to happen today too, but funny how it never does).
I remember a friend ruminating one day on all the women through the centuries who have done laundry on Mondays. She joked that she felt like she was part of a grand sisterhood as she toted, sorted, washed, dried, and folded clothes. And at least, we agreed, we had modern appliances to make the job attainable. Laundry day used to be the day that children were expected to stay home from school because the household wash was such a backbreaking task.
At the end of the day, when the beds are (mostly) remade and the clothes are (mostly) done, we always eat the same
meal…spaghetti. I make a huge batch of sauce once a month, and break it into batches to eat every Monday. Monday's laundry tasks are so time-consuming that I simply cannot wrap my mind around the question, "What are we having for dinner?" so I've made it another routine. Spaghetti has been our Monday night dinner for a few years now.
Don't get me wrong. I love the weekend and its break from routine. I love Sundays, especially. Having guests over for Sunday lunch is one of my favorite other routines of the week. We adhere to a relatively strict schedule during the week with the children's rest times so that on Sunday they are able to enjoy company, too, without falling to pieces in want of a nap. But there's something welcoming about the reliability of the weekdays. I know what time things will be happening. I know I can fall into bed on clean sheets on Monday nights, even if I just put them on the bed ten minutes before my head hit the pillow. At least that's done. Another week begun.
As a result of my routines, the children have become little creatures of habit, too. Last night as we enjoyed our spaghetti dinner, our second son asked two questions that betrayed his love of routine. The first was, "Where's the salad?". I had cooked green peas as our vegetable instead of making the regular green salad. His second question was, "Where are the Kellys?". Our friends the Kellys are nearly always here for spaghetti on Monday.
A few months ago our firstborn approached me in the afternoon with wide eyes and his Bible clutched tightly in his hand and said, "Mom, tomorrow morning, before I change out of my jammies, I am going to read in my Bible, just like you and Daddy do." Tears came to my eyes as I thought, "thank you Lord, some of our good habits have worn off on our children, not just the bad ones."
We serve a God of seasons and of routines. During the past three weeks, the boys and I have been learning about different Jewish holidays. The sheer number of holidays is telling. People forget. They need to be reminded. The many festivals and holidays were a time to remember God's blessings throughout Israel's history.
We also serve a God who graciously broke a routine. The routine sacrifices at the temple could never satisfy His holy demands. Praise Him that He spontaneously — in the fullness of time, as He had foreordained — broke into time with the gift of Christ, His Son.
"And every priest stands daily ministering and offering time after time the same sacrifices, which can never take away sins; but He, having offered one sacrifice for sins for all time, sat down at the right hand of God…." Hebrews 10:11-12
"For while we were still helpless, at the right time Christ died for the ungodly." Romans 5:6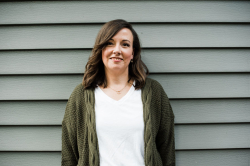 Latest posts by Kelly Keller
(see all)