Every mom has had the thought: How do they always know when I'm in the bathroom?
With surprising regularity, children seek out those moments that their mothers find alone in the restroom, and like tiny heat-seeking missles, they target the bathroom door with their miniature fists. "MOOOM!" comes the call from outside, along with any number of upsetting crashing sounds. I would wager that this is a universal phenomenon, happening at every second in countless locations around the world.
While most moms might sigh and contemplate quieter days, Rachel Donahue instead decided to channel her longings into a hilarious spoof of Edgar Allen Poe's familiar poem, "The Raven."

One by one I hear them coming,
Searching, calling, and then drumming,
Drumming on the bathroom door.
Shall I answer? Nevermore....
Then I spy four little fingers
Reaching, stretching as I linger,
Trying hard to creep beneath
The shelter of my bathroom door.
This poem is one selection of the many to be found in Rachel's collection Real Poems for Real Moms. She is in the trenches of mothering four young ones, calling out to her fellow moms with humor and compassion. You moms who have lost track of your coffee in the morning rush, only to discover it after it's long since gone cold — have you contemplated the glory of a lidded thermal mug? Rachel has.
Throughout the book there is a series of diaper haikus that tell the funny truth of those matters. There is an offering on the universal truth that although there are twenty-seven matchbox cars, everyone wants that particular blue one. A portrait of a failed trip to "Stuff-Mart." And a recounting of that sinking feeling every mother gets when it is "Too Quiet."
Amidst the funny, here lie poems of self-examination, as well. The doubts that creep in: are we doing enough? Is this the right formula for "successful" mothering? What is the line of obedience we must walk? Where is God's grace in all of this? We read a vulnerable remembrance of a child lost, and the grief that accompanies it, in "Little One Lost" and "First Day in Ramah." Rachel reminds us of the kindness of the God who is with us in the grief and glory of every path for a mother.
If you're looking for a gift for a new mom, or one who is up to her elbows in diapers and meeting little one's needs, may I recommend this as a kind gift for her? In what might be a season of invisibility, Rachel offers the kind grace of being seen and known by another. I can see this book taking up a valuable place beside a rocking chair in a nursery, to be read in the countless bleary-eyed hours of feeding and consoling.
You can find Rachel's wonderful collection of poetry on Amazon or wherever books are sold.
---
Featured image by www.freepik.com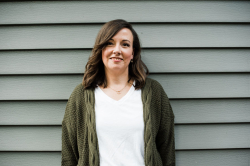 Latest posts by Kelly Keller
(see all)