Sometimes I wonder about my life. I lead a small life – well, valuable, but small – and sometimes I wonder, do I do it because I like it, or because I haven't been brave? So much of what I see reminds me of something I read in a book, when shouldn't it be the other way around? I don't really want an answer. I just want to send this cosmic question out into the void.

— Nora Ephron, "You've Got Mail"
Every Thanksgiving Eve, after the dishes are washed, the sticky counters and floors wiped, and the table is set for the feast, my family buys a takeout dinner — mostly for me, the weary cook — and turns on Nora Ephron's romantic comedy You've Got Mail. Ephron wrote the film as a remake of the black and white film The Shop Around the Corner, which shows two people falling in love through the mail. The 90's version features a romance begun online thanks to America Online, so my husband and I always enjoy fielding questions from the children about "How long did it take you to get on the internet then?!"
I think we came to this tradition one year because there is more than one scene in You've Got Mail that centers around Thanksgiving. Whatever the reason for the beginning, the tradition has stuck, and now we expect to be watching Kathleen Kelly argue with Joe Fox (F-O-X) on Wednesday before every Thanksgiving. Kathleen Kelly has always been a favorite of mine, in part because we share initials, and we both enjoy saying our own full names. She also enjoys children's literature as much as she does Jane Austen. She believes that "you are what you read." If she were not fictional, Kathleen Kelly would be my best friend.
There is one scene in the movie that always used to make me cry. Kathleen, while her small business is threatened by a bigger, badder one entering the neighborhood, sits down at her laptop one night to pose some hard questions. She asks herself and her anonymous online friend, "Sometimes I wonder about my life. I lead a small life – well, valuable, but small – and sometimes I wonder, do I do it because I like it, or because I haven't been brave?"

When I heard Kathleen pose this question, almost every time, for years, a tear would run down my cheek. I could relate to that problem so dearly. Here I was, a young mom living life within her four walls each day, doing it in mostly the same way everyone else did…and what was I really accomplishing? Was it so mundane because I was just being afraid? Why did I feel haunted by the thought that I could be doing something bigger — something braver?
It took me about ten years to learn it, but now, on the other side of forty, I don't cry when I hear Kathleen say that anymore. If I could sit down for a cup of tea with her, I would tell Kathleen Kelly what I've learned about living small.
I have now spent almost two decades living life within those same four walls, with an increasing number of children (we have five), making the same dinners, pushing the same buttons on the washer, and going up and down the stairs ad infinitum. Read the books. Change the diapers. Sweep the floor. Break up the squabble between siblings. Return the text. Show up for church on Sunday. Serve in the nursery. Again. Again. Again.
It doesn't sound very glorious, does it? And yet, in those two decades, we have (almost) raised these human beings. Through rhythms, routines, and traditions, we have traced over well-worn lines in our souls and those of our children. Not many things in our life together were big and newsworthy — almost nothing, really. But the daily, the small, the mundane, the routine, have worn into life-giving paths.
You may not work in the same vocation as me, but maybe you share in wondering about the repetitive, seemingly mundane existence you are living. Perhaps you work at a job that you don't find very fulfilling, or you wonder how long you can stay in the place you're in. Maybe you are looking around for meaning from a spouse, or kids, or the life you thought you'd have. It's in these unanswered questions where fear takes hold: are we doing something wrong? Do other people feel this way?
Let me answer you, and then maybe you can keep reading. No, it doesn't mean you're doing something wrong. And yes, almost everyone feels this way sometimes. Go ahead, ask some people around you. They will probably have something to say about it.
(This post was the first entry in a series on tiny habits and ways of investing in your church and community. You can find the full series beginning over here, in my newsletter.)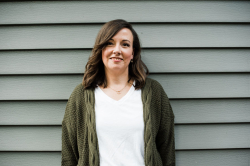 Latest posts by Kelly Keller
(see all)