Adding a new baby to the family can be exciting, and older siblings often get swept up in the joy and anticipation. But what may seem fun and games at first can become tedium as kids adjust to mom not feeling well, frequent doctor's appointments, and endless waiting for the big day. And then, when the baby finally arrives, the attention older children once enjoyed from parents and grandparents may seem to have transferred. No matter how excited an older sibling may be, it doesn't mean that they'll have no negative emotions about the new baby.
Kathleen Long Bostrom's book Since the Baby Came: A Sibling's Learning-to-Love Story in 16 Poems addresses this range of emotions in a creative way. With so many gifts and attention for baby, this sweet book can help older siblings feel seen and loved.
The poems in Since the Baby Came are written from the older sister's perspective. They cover the up-and-down real emotions children may feel toward a new baby including confusion, excitement, jealousy, frustration, joy, and love. The series of poems follows a natural arc that ends with love and friendship without glossing over the real difficulties of adjusting to a new sibling.
A unique feature of this book is that each poem employs a different poetic form including roundel, quatrain, and limerick. The book's back matter defines and explains each type of poem featured in the book. Bostrom gives significant attention to poetic details of rhyme, meter, and form, making each poem easy to read aloud.
One of my favorite aspects of the book is in the inclusion of simple childlike prayers. Some of these are a single line in a poem, but my favorite is "Dear God," a turning point poem in the middle of the book. While it begins with a bit of a neglected-feeling complaint, it ends with a genuine turn in emotions. It tangibly displays the power of prayer to change our hearts.
In his Letters to Malcolm: Chiefly on Prayer, C.S. Lewis writes, "We must lay before Him what is in us, not what ought to be in us."
That honesty with God opens us up to change, and it's refreshing to see it portrayed in a book for young children. C.S. Lewis may not have said, "Prayer doesn't change God, it changes me,"—that was Anthony Hopkins playing Lewis in the movie Shadowlands—but that saying perfectly describes the prayers in this book.
Since the Baby Came would make a great conversation starter for expecting parents and their kids. It can help them together understand and work through negative emotions, especially when the child reader realizes those emotions are expected and something they can share with their parents. And since it portrays having a new baby in all its joy, messiness, and drama, older siblings will be more prepared to welcome their new brother or sister, dirty diapers and all.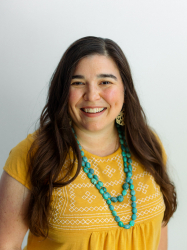 Latest posts by Carolyn Leiloglou
(see all)