The Sunlit Lands Series by Matt Mikalatos is my top pick for kids who have grown up reading The Chronicles of Narnia, The Wingfeather Saga, and The Green Ember Series and are now ready to dive into young adult. These books contain the same kind of deeply true and meaningful stories as the above mentioned series. And if you've been following me for a while, you know what high praise that is. My teens and I devoured the first two books in the series, The Crescent Stone and The Heartwood Crown. Book three, The Story King, just released June of 2021.
Mikalatos has created a fantasy world whose problems and injustices touch our own. And just as in our own world, there are no easy answers. In fact, not every point of view character comes to the same conclusion about how to make the world more just. But these books wrestle with big issues and will leave your teens with bigger hearts as a result.
The Story of The Crescent Stone
Madeline Oliver can't breathe, and it's killing her. So when a mysterious man offers a magical chance to be healed in exchange for one year of service to the Elenil fighting the Scim in a place called The Sunlit Lands, Madeline can't refuse. But her friend Jason Wu–eaten by guilt at his own sister's death–can't let Madeline go alone. And Darius, the ex-boyfriend she still loves, is determined to find her no matter what it takes.
In the Sunlit Lands, everything seems simple at first. The beautiful Elenil are attacked nightly by the grotesque creatures known as Scim. Human teens, using the Elenil's magic, defend the city and are magically healed of any wounds. But when Madeline and Jason discover the cost of the Elenil magic–including the magic allowing Madeline to breathe–it sends them on an ever more complicated quest for true justice.
What I loved
Real characters–The people Mikalatos fills his world with feel real, especially the human characters. You will laugh with Jason, cheer on Madeline, and want to fight for justice with Darius.
Diversity–Mikalatos has chosen an incredibly diverse cast of human characters (not to mention his equally diverse fantasy races). And while some might consider this a ploy, it most certainly isn't. Each character's background and past comes into direct connection with the story.
Fully realized world–The Sunlit Lands is full of different people groups with different perspectives on life, justice, and the maker of their world whom the Elenil call The Majestic One and the Scim call The Peasant King. The appendix contains delightful extra stories, sayings, and legends from the various people groups.
Honest grappling with issues–The issues dealt with in this series could have been ripped straight from recent headlines, unjust systems being a large one. And there's no one easy answer, either for our world or theirs.
Parents should know
These books are written for a young adult audience and contain thematic elements such as violence, (clean) romance, and family issues. Things are complicated in the Sunlit Lands, as indeed they are in our own world. But I think your kids will be better for wrestling through these issues with Mikalatos's capable guidance.
---
This post first appeared on housefullofbookworms.com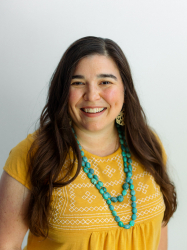 Latest posts by Carolyn Leiloglou
(see all)