All of my favorite childhood movies were based on books. And I never even realized it.
I'm not exaggerating.
Every beloved movie that I watched and begged to rent again from Blockbuster the following weekend was based on a book. "The Hobbit" (yes, the old animated one!), "Watership Down", "The Mouse and His Child" (which I'm still broken-hearted isn't on DVD), "The Last Unicorn", "Charlotte's Web", "The Secret of NIMH", "Willie Wonka and the Chocolate Factory", and "The Wizard of OZ".
We talk about books being formative to a child's soul as their mind inhabits those characters and stories. But movies can be just as formative to a child as books, and I believe these were to me.
I realized that The Hobbit was a book once I reached middle school, but I never knew about nor read most of the others until I became an adult (though I still haven't tracked down a copy of The Last Unicorn).
Recently, my husband read The Hobbit aloud to our family. I'd read it before, but it was magical to hear it read aloud. The kids and I were spellbound. I had never really appreciated the poetry Tolkien wove throughout the book until I heard it spoken.
Once we finished the book, I was excited to share my cherished childhood version of The Hobbit with my eight and ten-year-old.
They were unimpressed.
And now I'm surprised I expected any different. What movie ever lives up to the book? As wonderful as these movies seemed to me, the books would have been immensely more good, true, and beautiful in forming my childhood imagination. I loved the movies because of their stories, but those stories are much better expressed in the actual books as realized through the imagination of a child.
So, while I still appreciate movies based on books, I realize their true purpose should be to lead kids to the delightful books they portray, as they eventually did with me, or to enhance the enjoyment of a beloved story.
In a way, I'm glad that "The Hobbit" cartoon didn't live up to the grand visions my children have of Bilbo and Gandalf, Rivendell and Mirkwood. I hope their imaginations continue to surpass anything they might see on the Silver Screen.
And I trust those stories and images will follow them into adulthood as those from my own childhood followed me.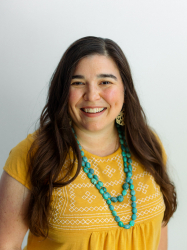 Latest posts by Carolyn Leiloglou
(see all)