Julia's House Moves On by Ben Hatke is a beautiful picture book about not having it all together. Because none of us do, really. And sometimes it takes a book like this to help us, and our kids, take a deep breath and remember that our plans may not work out, and that's ok.
Julia's House Moves On is the sequel to Julia's House for Lost Creatures. But you don't have to have read the first book to fully enjoy the second. In Julia's House for Lost Creatures, Julia opens her too-quiet house to creatures in need of a home. Soon her house is noisy, chaotic, and messy. So Julia makes a chore chart so that everyone can pitch in. By the end of the book, it seems like Julia has everything under control.
When Julia's House Moves On opens, both the house–which rests on a giant turtle's back–and the creatures are restless. But Julia has a plan. When the turtle ignores her plan and sets the house adrift on the sea, Julia has another plan, and then another. But none of her plans seem to work out. When she emerges from her workshop with new plan, she finds herself alone. Have all the creatures abandoned her?
I won't spoil the ending, but I will say this book beautifully points out our need for accepting help from those who love us. Many of us feel the pressure to have everything figured out. And our kids can feel that pressure too, though they usually have much less control of their lives than we do.
Julia's House Moves On gives us a gentle reminder that it's ok not to have everything figured out. This book is an opportunity to start a conversation with our kids about how we react when our plans crumble. Our kids tend to think we have everything under control and that they should too. While young kids need security, letting your older kids know that you don't have every answer can help free them from the pressure of perfectionism.
And if you need one more reason to pick up this book, Hatke's illustrations are absolutely delightful. His creatures range from new takes on classics to one-of-a-kind marvels. And he's created my favorite mermaid ever whose fins remind me of a leafy sea dragon.
If you've read either of the Julia's House books, I'd love to hear which creature is your favorite and what conversations the book inspired.
---
This review originally appeared on housefullofbookworms.com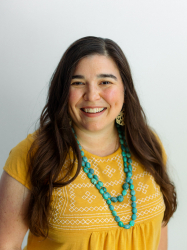 Latest posts by Carolyn Leiloglou
(see all)