My son's favorite books are the Lord of the Rings series, so buying John Ronald's Dragons: The Story of J. R. R. Tolkien
by Caroline McAlister for his birthday was an obvious choice. Even if he was turning ten. A well-written, beautifully illustrated picture book has a magical quality of appealing to all ages.
John Ronald's Dragons traces Tolkien's life from his childhood in the country to boarding school to the Great War and finally his years at Oxford teaching, meeting with the Inklings, and eventually writing The Hobbit.
When Bilbo appears in his imagination, the hobbit leads Tolkien out of the shire, through Mirkwood forest, over the Misty Mountains to Smaug the dragon's lair. In the illustrations, Tolkien himself trails the band of dwarves and hobbit all the way. It might seem strange to end the book with Tolkien beholding Smaug, but I believe it's the perfect ending to draw your kids into a reading of The Hobbit. They'll want to understand the backstory and find out what happens next.
The illustrator, Eliza Wheeler, weaves snippets of scenery and characters from middle earth into the landscape of Tolkien's life. Your kids will love discovering the dragons concealed on many of the pages.
If any of you were surprised, like me, that Tolkien was obsessed with dragons, McAlister has included the quote to prove it in the book's back matter where more facts about Tolkien can be discovered.
This picture book is perfect for kids (and adults) already obsessed with middle earth as well as kids about experience The Hobbit for the first time. (Have I mentioned The Hobbit makes a spellbinding family read-aloud?) There are few things more enjoyable than introducing your kids to a favorite author, especially when they come to love their books as much as you do.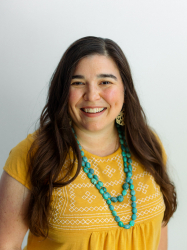 Latest posts by Carolyn Leiloglou
(see all)