From the Bible – Genesis 28:10-22
Today's Reading:
Isaac was the son of Abraham, God's special friend. God blessed Isaac, and began to keep his promise of making Abraham's family into a great and mighty nation. Isaac married a good woman, and they had two boys—twins!
Before the boys were born, God chose the younger one (named Jacob) to be his special friend, like his father and grandfather before him.
Now, you might think that Isaac and his sons were thankful for God's kindness, and kind to each other. You might think that, as God's chosen people, they were the most perfect family ever. But they were not!
First of all, Isaac had a favorite son. And as if playing favorites wasn't bad enough, Isaac favored not Jacob, the son of promise, but his older brother, Esau! Isaac planned to give Esau a gift—a blessing that would help him for the rest of his life.
Of course Jacob was jealous of his brother. He wanted God's blessing, and he thought it should come from their father, Isaac. But Isaac wanted to do what was usual in those days, and give Esau the father's blessing because he was older.
If Jacob had trusted God to keep his promise, he would not have worried about Isaac's blessing. But he didn't. So Jacob pretended to be Esau, tricked his blind old father, and stole Esau's blessing! Then he ran away so that his angry brother couldn't get even with him.
What a mess! What would God do?
Well, Jacob ran across the wilderness to live with his uncle. On his journey across the wilderness, he stopped to sleep for the night. Jacob had no tent, and there were no hotels, so he slept on the ground under the stars, with a big rock for a pillow. And as Jacob slept, God gave him a special dream.
Jacob dreamed of a great, shining ladder, standing by his head and reaching all the way up to heaven. He saw angels climbing up from earth to heaven, and down from heaven to earth. And at the top of the ladder stood God himself, shining brighter than the sun.
God said to Jacob, "I am God, and I know your father Isaac, and your grandfather Abraham."
Then God told Jacob his plan for saving the world, just as he had told Abraham. And he promised, "I will make your family very, very big, until there are more of them than there are grains of dust in the world. I have chosen you, and one of your great-great-great grandchildren will be the Child, the Promised Rescuer!"
God was sticking to his plan. Not because Jacob was especially good (he was a sneaky thief), or because his family was especially good (they were ALL selfish and disobedient), but because God's love is like he is—Strong, Stubborn, Always and Forever.
So God stuck with his plan, and he stuck with Jacob. Over the years, God made Jacob into a new kind of man. He even changed his name! And someday God would make a real way to heaven – not a dream ladder, but a Person. Our Rescuer.
—
You can download the complete Family Advent Art and Reading Guide or just download the art for printing and crafting by clicking here.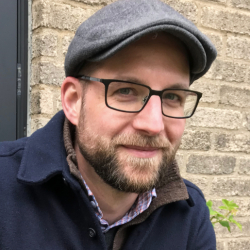 Latest posts by James D. Witmer
(see all)