I've self-diagnosed myself with adult amnesia. Maybe I made that term up, but I think it's a real problem. I have trouble remembering what it's like to be a kid. Do you?
Actually, I do remember much of what it's like. The problem is I have trouble remembering to remember.
When I was a kid, I loved animals—you might say I was obsessed with them—and had a long succession of pets. In preschool, I had an albino hamster who bit me and escaped into the back yard. In elementary school I was constantly catching and releasing lizards and toads. When we visited a friend's ranch, I begged my parents until they let me take home one of the puppies a stray dog had given birth to. I inherited my cousin's parakeets which I would let fly around and around the room. One year, I even brought home a bucket of hermit crabs from the beach. We had to purchase a salt-water aquarium to keep them alive.
Looking back, my parents (my mom especially) were heroes for letting me have all those pets (and probably doing most of the work, too). Those pets brought me a lot of joy.
But when my own kids ask for pets, it's harder to remember how I felt. Instead of viewing the experience through their joy and wonder, it's easy to think of a pet as nothing more than extra work and mess, hair and allergies.
So each year, when the kids begged for a dog, we always had excuses. I can't train a dog when I'm pregnant. Or it's too much to handle with a toddler. We're moving. Your grandfather is allergic.
Then, several years ago, something caused a shift. I decided to commit to my writing, which I had only dabbled in before. I began to write a series of stories about a girl, much like my childhood self, who loved animals and had adventures with them. But this girl had a mom who didn't like pets. This mom wasn't like my mom, but she did feel familiar.
Somehow, both the girl and her mom were me. How could I have become such a very different adult than the child I had been? I didn't really want to be that mom who hated pets.
And then something else changed. I remembered what it was like to have a dog. And I didn't want my kids to grow up without having that experience.
So, we adopted a cute black and tan puppy from a shelter. My mom-self still sometimes gets frustrated with the mess and ridiculous amount of chewing. But I don't regret it. My kids all love that dog, more than I expected.
And me? I got to remember and relive some of my childhood wonder through their eyes as well as through writing about my character, Noah Green Junior Zookeeper
. And I imagine how much my childhood self would have loved such a book.
Maybe you aren't planning to write a book, but I'd encourage you to take time to remember who you were as a child. Overcome that adult amnesia. The very thing that would have brought your child-self joy may be exactly what your child needs.
---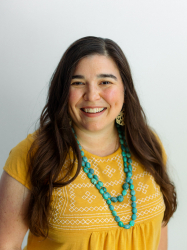 Latest posts by Carolyn Leiloglou
(see all)