I'm pretty sure everyone has the urge to improve the world. Some feel it vaguely, as a desire to build or accomplish something, but it's always there. You can see the impulse running pure in children; they love the process of making, no matter how messy the result.
As people get older, we begin to want more. To create something is not enough – it must be Something That Matters. This can be a sign of maturity, moving beyond "self-expression," but it can also push us into difficult places, because what is important and what feels important are often different.
I'm sure you know what feels important: Things that grab attention and admiration. Earning degrees, for example. Having a successful career. Anything with a whiff of fame about it. And, if you're a Christian, anything that seems particularly "spiritual."
I think you also know what doesn't feel important. Normal life. Living simply or (worse) being average. Parenting. Few things seem less important than applying ourselves to the daily grind. That's why we call it a grind, for heaven's sake. But can we trust this feeling?
C.S. Lewis's fictional demon, Screwtape, advises his protege:
The horror of the Same Old Thing is one of the most valuable passions we have produced in the human heart…. We have trained them to think of the future as a promised land which favoured heroes attain – not as something everyone reaches at a rate of sixty minutes an hour." (Lewis, The Screwtape Letters, 91-93)
– And I recently happened on this quote from Gene Edward Veith's Family Vocation:
Motherhood is a rebuke to everything Gnostic – the heresy that says only 'spiritual' things are worthwhile… Motherhood is the perfect illustration of vocation. God has empowered a woman to be a mother, and God works with a mother to sustain that fragile life."
Wow. Does it surprise you to be reminded that Gnosticism is a heresy? Or that it even has a name? Does it (sadly) seem more often like common sense?
Parenthood is a rebuke to Gnosticism only if we recognize it as a divine gift.
Unfortunately, the Spartan attitude toward socialization and conformity is again becoming fashionable. Our society values economic productivity above all else, and is offended by the man who thinks differently from his fellows. So they consider child-raising too important a trust for mere (amateur!) parents, and also below the dignity of those same parents.
It is hard to prevent our feelings being affected by the surrounding world. (And we cannot point all our fingers outside the faith. Has ever a church bulletin run, amongst the other "ministry" announcements, recognition of a mother who did the laundry with a cheerful, servant's heart?)
It's tempting, then, to let our love for family be drained by the relentless, repetitive rehearsal of chores and duties. Much easier to resent or hasten through our daily opportunities, saving our excitement for more public projects!
But not long ago I found a passage that made me sit up straight, that continues to sing in my bones. It lurks, unexpectedly, at the end of George Eliot's gloomy Middlemarch. Perhaps it will hearten you as it has me:
Her full nature… spent itself in channels which had no great name on the earth. But the effect of her being on those around her was incalculably diffusive: for the growing good of the world is partly dependent on unhistoric acts; and that things are not so ill with you and me as they might have been, is half owing to the number who lived faithfully a hidden life, and rest in unvisited tombs."
————————————— || —————————————
 In your relationships with one another, have the same mindset as Christ Jesus:
Who, being in very nature God,
did not consider equality with God something to be used to his own advantage;
rather, he made himself nothing
by taking the very nature of a servant,
being made in human likeness.
And being found in appearance as a man,
he humbled himself
by becoming obedient to death—
even death on a cross!
(Phillipians 2:5-8)
---
Featured photo by photoangel – freepik.com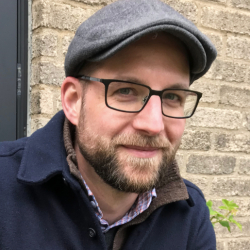 Latest posts by James D. Witmer
(see all)