Thanksgiving is a great holiday. Not only is it specifically devoted to the virtue of gratitude over consumption, but it even offers us a way past the too-abstract notion of "being thankful," by means of a story.
Yes, I mean the story of the Pilgrims who settled at Plymouth. It's a complex story, with plenty of food for thought about the effects of colonialism, the experiment in communal living, and so on, and we probably take it too much for granted. The funny thing is, however, no child knows this too-familiar story until it is told to them. Stranger still (to me), every child has a first time to hear the story, and a first time to remember hearing it–and the remembering rarely happens upon the second hearing! I think it's important that the first many tellings convey the bright kernel at the center.
The Thanksgiving story is a one of sincere, flawed, courageous people who made mistakes, and suffered loss, and walked through the valley of the shadow of death only to be confronted by the threat of starvation. It's a story of people who, when finally blessed with abundance, were humbly eager to recognize divine mercy, and to respond with generosity.
It's a great story, and I've taken to reading our favorite re-telling each year at the feasting table on Thanksgiving Day. Written by Alice Dalgliesh, this little book is called, simply, The Thanksgiving Story.
A Caldecott Honor Book, The Thanksgiving Story follows one family from the harbor of Southampton, through the changing seasons, until the harvest and celebration we remember. By focusing on one family, Dalgliesh creates points of connection with young readers: children listen from below decks as the anchor chain rattles; a baby brother is born mid-Atlantic; when seven small houses are built in Plymouth, they finally have a home of their own.
Through this peep-hole, her narrative conveys a staggering amount of information about life aboard the Mayflower, and life onshore in Plymouth. All the important characters are here, and all the important events a child would have understood. She also points out details even adult readers might have missed, like the fact that, at the time of the Thanksgiving feast,
"Only fifty-one settlers had lived through the winter – and half of them were children. Only a few women to do all the cooking!"
If you're looking for a great way to understand real-life gratitude this year, I commend to you The Thanksgiving Story.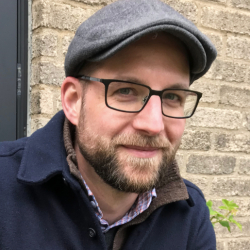 Latest posts by James D. Witmer
(see all)