I was young when I first read A.A. Milne's books, Winnie-the-Pooh and The House at Pooh Corner. So young, in fact, that I didn't notice his playful capitalization, giving proper names to Very Important Things. I also failed to notice any family resemblance between elephants and heffalumps, or between haycorns and acorns.
Fortunately, I was also young enough to be mentally flexible. For heffalumps my imagination supplied monsters like the big purple ogre from Bill Peet's Cowardly Clyde. And the illustrations showed me haycorns were not grassy field corn, but nuts. So I read on, beguiled by Millne's rollicking narration.
What soaked into me, more enduringly than many things that were hammered in, is best expressed by G.K. Chesterton:
An adventure is only an inconvenience rightly considered. An inconvenience is an adventure wrongly considered.
I wish I had this marvelous perspective on all of life, but I am grateful that at least Milne (and brilliant illustrator E. H. Shepard) have saved me from losing my childlike wonder at the changing seasons, weather, and especially rainstorms.
When I step out into the gusty rain to walk to work with my umbrella, I feel kinship with Christopher Robin, going out in the morning to measure the rising flood, and sailing in his umbrella to rescue Piglet, who is Entirely Surrounded By Water. I cannot escape the sense that there is Potential in all this wet – a chance to live for a day on a real island, maybe, or to sail down great rivers of storm runoff, leading to friendly harbors.
Of course, I know my walk will be entirely prosaic. I will reach work safely, and I can tell from my grown-up height that the rising waters are only inch-deep rivulets, soon to be captured by the storm drain. But thanks to Pooh, I really hear their gurgling rush, and I see the threat of dark sea-skies in the pattering grey rainfall. And because of this I find myself thankful to the Inventor of spring storms, smiling and warm inside while properly grown-up co-workers arrive gloomy and damp.
Spring, summer, autumn, winter – Milne limned the adventure lurking in each season; the (deliciously) eerie portents in things like snowy footprints.  I love that the key to this hidden world is the simple-mindedness of his characters. I love how Christopher Robin's unconditional love makes a Bear With Very Little Brain into someone heroic, even beautiful. And I appreciate how that same love makes Pooh's prickly, obsessive-compulsive, neurotic, and obnoxious friends all loveable.
Share A. A. Milne's original Winnie-the-Pooh with your kids. It will nourish them like A Little Something Before Dinner, sweetened with honey.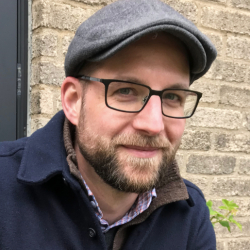 Latest posts by James D. Witmer
(see all)