Queen Christie's enchanted sword cast a halo through the underbrush as she crouched low, her keen eyes scanning the darkness for a familiar glimmer. A breeze tousled her hair, and she caught her breath as she glimpsed it: the glow of a magic stone discarded among the brambles.
With a quick motion she snatched it up, then turned and fled. A rustling of leaves sounded, and she knew without looking that her elven companion lagged just behind her, the Light of Truth raised aloft in his hand to illuminate their way.
A familiar growl echoed through the forest. "It's the Bog Men!" her companion cried. They quickened their pace, but the sound of their enemies only loudened, and soon the roar of fooftfalls and howls surrounded them. They dived behind a boulder, pressed against the cool rock, and listened with held breath as footsteps drew ever closer. Queen Christie tightened her grip around the hilt of her sword.
"Hey, are you guys okay?"
Our kids stepped out from behind a rock alongside the road as the "Bog Men" — in the form of a Honda Accord– swept past, stirring up leaves in its wake. My daughter held her plastic light-up sword in one hand. In the other, she clutched a golf ball our neighbor had driven into a copse of pine trees where our kids search for owls.
"Yep, we're great," she said. The magic stones were safe for one more day.
As parents, we all relish the moments spent with our kids as we meander through stories at home. We savor the warmth and closeness of a child on our lap, or several crowded on either side of us as we nestle into the couch and journey through Middle Earth and Narnia, Neverland and Aerwiar. We watch them lean in as the suspense mounts, and we remember how we, too, could barely wait for the ending to our favorite stories.
And yet, for young minds stories don't begin and end with read-alouds. The characters and themes we introduce at home spill over into every avenue of a child's life. Harry Potter follows them to and from school. Wilbur noses through the flowers as they play outside, and Charlotte watches over them from her web in the eaves.
Some of the most exciting stories escape the coziness of our sofa cushions entirely and venture into the great outdoors, where the wonders of nature inspire kids to create new adventures of their own. Outside, where sun and sky and the crunch of leaves create new worlds, kids crane their necks to discern the language of the wind, and chase after grasshoppers as if they were miniature dragons. Outside, God offers us a thousand shimmering moments when we can explore stories with our kids that point them to the true Story — the story of the One whose love overcomes the darkest evil.
Stories first joined our family outdoors in the woods near our home, as we meandered along trails during light hikes. One April afternoon the sunlight sprayed the forest floor with the first hints of spring warmth, and something about the light stirred up magic. My husband started chanting Far Over the Misty Mountains Cold (in an overdone dwarven voice, of course). One by one our kids joined in, and before long we were racing down the path to flee orcs, and enlisting the help of ents who stood guard along the trail. Our daughter declared herself an elven maiden, and wielded a stick as a dagger. Soon our kids' own imaginings seeped into the narrative, and they wove a new story as they leapt over rocks and crossed great chasms of fire (i.e., a muddy brook).
Stories have followed our family into the mountains, atop peaks where we've squinted to discern Cair Paravel on the horizon. But as much as the grandeur of mountains and canyons elicits delight, even a walk through a neighborhood can inspire wonder from minds ripe for dreaming. Our daughter's quest for magic stones arose from casual walks after dinner, when the dim light of dusk in autumn required her to carry a light. A suggestion of magic within a grove of trees, the glimpse of a few mysterious shadows, and her imagination took flight. Such enchantment doesn't sequester itself in majestic vistas and deep forests only, but rather thrums anywhere where sky meets earth, anywhere where we can see God's artistry on full display.
When kids feel wet soil under their feet, and spy leaves spiraling down from the trees like birds, they intuitively sense themselves among things that are good, true, and lovely (Phil. 4:8). They sense something wonderful at work — someOne wonderful. All it takes is a gentle nudge from a parent, a suggestion that a beloved story is living and active among those trees, for them to take hold of the narrative and dive headlong into delight. When snow covers the lawn, they'll look for the lamppost. When crows circle above, they'll hide from the crebain. And throughout, whatever stories burst into their moments outside, they'll know that good will overcome. Light will swallow up the darkness. Somewhere in the deep dark a magic stone will still glow, because He is with us (Matt. 28:20). And all will be well, because He is good.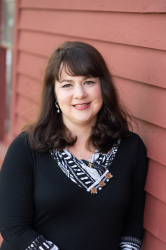 Latest posts by Kathryn Butler
(see all)