Hercules Beal is not the strongest kid in his class. He is, in fact, the shortest, still waiting on his growth spurt. He is also, thanks to a drunk driver, newly an orphan. As a result, he has to transfer to a closer middle school for his sixth grade year because his older brother (now his full-time guardian) cannot take time off keeping the family business alive to drive Herc to school and back.
It's hard enough to be in junior high even without all these extra troubles.
When his homeroom teacher, retired Marine Lieutenant Colonel Daniel Hupfer, assigns each class member a specific year-long project based on a different Greek myth, Hercules Beal is asked to re-enact the twelve labors of the legendary Hercules.
How? Does Lt. Col. Daniel Hupfer care? Nope. Figure it out, Beal.
This gruff ex-Marine is, it turns out, a kind and compassionate human who understands human nature and the nature of grief. The legendary Hercules set out on his labors to atone for the death of his wife and children; Hercules Beal believes the death of his parents to be partially his responsibility, and Hupfer allows this year of hard (and creatively carried out) tasks to be Herc's own atonement. But it is not an atonement that needs to be given. The importance of the lesson is, of course, in understanding that their death wasn't his fault—that he is still alive, and contributing to the world. That he is growing and learning and has family and friends who love him.
Gary D. Schmidt is a master of the unspoken, of allowing the nuances and silent spaces of a story to tell us a thousand things about his characters. This gift shines through in the tale of a hurting young boy and his struggle against his own pain and guilt. With the empathy and understanding of someone who knows grief, and who has walked with those who grieve, Schmidt weaves his usual cast of loveable characters into a community around Beal.
Schmidt does not shy from speaking the true and hard things of the world to a young audience, but he also never leaves the bitter without hope. Sorrow exists, and broken relationships, and yet Schmit is able to present these hard truths in a way that also shines with the light of what is good and true and beautiful. In the same vein as his absolute gems The Wednesday Wars, Just Like That, and my personal favorite, Okay for Now, Schmidt has added another thread to the tapestry of a world filled with stories.
We all carry such stories, and we all walk such roads, even into Hell and back. Schmidt shows us how we can do it together, and with hope.
Hercules is a boy with a man's burden. As he meets the various challenges of surviving the school year, he grows towards being able to carry this burden without being crushed by it. This is, I believe, what Schmidt wants for all of us.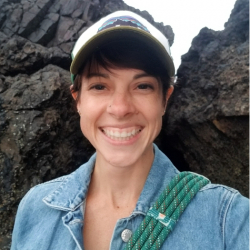 Latest posts by Millie Sweeny
(see all)