Sometimes I approach the writing of book reviews like a journalist: balanced, disinterested, with no agenda beyond illuminating the story so that readers can decide for themselves whether or not to try the book.
With this review of Ember Falls, though, I can't pretend any of those things. I want to convince everyone – except for one group – to read Ember Falls immediately. The author, SD Smith, is a great friend of mine, and I'm terrifically proud of his work in this book.
Ember Falls is a sequel to the widely appreciated The Green Ember.
(If you haven't read The Green Ember, there is a lovely treat before you, and you belong to the one group of people who should not read Ember Falls just yet. Read The Green Ember immediately, then join us back here with Ember Falls!)
The writing of sequel stories comes with a unique set of challenges. You might think that having already created compelling characters and an interesting setting, the author could practically take his ease. Make up almost any situation, and we'll follow along again, right? But if these beloved characters have already come through a story's-worth of growth and maturation, there is a danger that they could stay unchanged as their best selves from the previous book – and so become boring, or inauthentic.
In a similar way, the challenges and conflict your characters face must grow with a second story. A more-or-less repeated telling of the last conflict might sell books (or, ahem, movie tickets), but it doesn't make art with lasting value.
SD Smith (or, as I like to think of him, "Sam") has more than met these challenges. The failures, promises, and fears that his characters experienced in the first book become the seeds of new fears, new successes, and new griefs. Only beware, because while the healing of some fears produces new success, some promises hold within them the makings of fresh griefs. The victories of the first book were real, but evil still lives, and the final victory remains out of reach as the story progresses.
So much for Smith's story-telling and craftsmanship. Even though it has, if anything, improved over his first book, lovers of The Green Ember probably want to know what became of the friendship between Heather and Smalls, whether Picket successfully rescued his parents and little brother, and what, if anything, still stands in the way of a triumphal Mended Wood.
Well, I shan't tell you, and not only because you should read the book. Fair warning: some of The Green Ember's biggest themes of betrayal, redemption, and restoration remain unresolved at the end of Ember Falls.
(Another book is coming!)
Yet for this very reason, I think you will find yourself loving Smith's characters, the world of Natalia and – if my experience is any indication – your own family and world even more. That's what great stories do, it's why I believe Ember Falls is a great story, and why you should buy a copy and read it with your family.
Bear the flame!
---
Check out the great launch deals on all of Sam's books at the Story Warren Store or purchase Ember Falls through Amazon.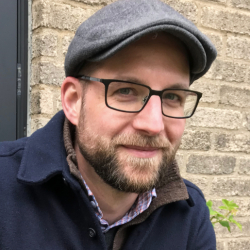 Latest posts by James D. Witmer
(see all)