Our family had a rough summer.
It began typically enough. The hurried school wrap-up of mid-June ceded to languid, lazy days, replete with swim lessons, books, and sticky watermelon slices on the back patio. When July struck, however, grief stormed into our lives, barreling in as if riding astride the broiling summer thunderheads. One dear friend died suddenly. Then another. Then another dear friend suffered a devastating loss. Then yet another endured the same. One after the next, tragedy struck those we love like waves rolling in and shattering against the shore.
As we aimed to come alongside the hurting, the weight of grief pressed on us, as heavy and oppressive as the stifling July air. How long, O Lord? my husband and I would pray, as we glanced at one another with tears yet again swimming in our eyes. We'd both witnessed the wages of sin before (memories of those whom I've seen draw their last breaths in the hospital still haunt me), but in this season every minute of our days confronted us with its miserable toll. Another funeral stamped in red on the calendar. The email started to a friend, never sent, that would forever remain in draft. The fragile voice of a grieving wife on the phone as she fought to speak. The hug, longer than usual, of a husband fighting to handle the mundane routines of which his wife had once been so integral.
One afternoon, as in this mire I struggled to focus on teaching my kids math, a deer stepped from the woods, helping itself to our rhododendrons as if tucking into a buffet. Normally, I might marvel for a moment at God's creation, then wave it away out of concern for our shrubs. This time, I only watched it, held on to the moment, and thought of Psalm 42: As a deer pants for flowing streams, so pants my soul for you, O God. My soul thirsts for God, for the living God.
We thirst for you, Lord. All the world thirsts for you — for your mercy, for relief from this groaning. Please. Come, Lord Jesus, come.
This unquenchable thirst lingered with us on our yearly trip to the mountains. We drove northward, away from cellphone towers and traffic, toward spaces that still boasted of God's untouched handiwork. Mountains heaped up their backs amid verdant fields, and rivers unspooled through the woods like ribbons of quicksilver. There, we tromped through the mud along the banks of lakes and streams, cast out our fishing lines, and waited for the Lord to give us what He willed. After so much sorrow and the gray, dismal days, we longed to reel in something shimmering, something bursting with life and movement.
On one such trip, the lake yielded no fish. Instead, we paddled toward a pebble beach that our kids claimed as our own. There, we pulled ashore, and after swallowing down smooshed peanut butter and jelly the kids dove into carving a stream into the sand, shoveling wet gravel with their cupped palms. . .creating, as God had created them to do.
While they busied themselves, I cast my eyes out toward the lake and hummed, "Great Is Thy Faithfulness," my go-to hymn in shining places. As the verses floated through my mind, the tears returned, and suddenly I saw in the rolling waves all the loss and heartache, not only of the past month, but always, striking us all. One after the next, the waves rolled on. Relentless. Unforgiving. One swell would disintegrate into froth on the shore, only for another to darken the line of the water and heave itself forth. On and on they came, never stopping, never yielding, never allowing the still water to flatten, never pausing to permit those treading below to break through the surface and gasp for breath.
And yet — while my children dug trenches in the sand, and I stood nursing a wounded heart, the waves did not overcome us. Their froth did not even lap our feet. God bade the waves come only so far, and no farther. "Here shall your proud waves be stayed," God said (Job 38:11).
Through Christ, I whispered to myself. I tilted my face skyward to behold the dome of brilliant blue stretching above us. The sunlight cast splinters of silver across the water. All around, God bathed us in marks of His glory. He swathed us in light, to remind us of His own.
In this fallen world, trials will come. Storms will batter us off-kilter, surging on and on until we gasp for breath. But in Christ, God holds us. By His grace, the waves, although sharp with seaspray, will never subdue us. The raging waters will never swallow us. The One who made heaven and earth stems their flow and stops the swelling tide. The One for whom our very souls pant, has given His one and only Son for us.
The One who created you, and knows you by name, has redeemed you. When you pass through the waters, He will be with you.
And through the rivers, they shall not overwhelm you (Isa. 43:1-3).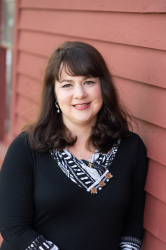 Latest posts by Kathryn Butler
(see all)