If you're anything like me, it's not uncertainty about the importance of truth and beauty that brings you to blogs like Story Warren. It's that artful parenting is hard, and lonely, and sometimes feels like merely adding to an already impossible list of parenting demands. If you're like me, you need to be reminded that sharing truth and beauty is worth the cost.
With that in mind, I'd like to talk about a passage from Edith Shaeffer's book, The Hidden Art of Homemaking.
Whatever form art takes, it gives outward expression to what otherwise would remain locked in the mind, unshared. One individual personality has definite or special talent for expressing, in some medium, what other personalities can hear, see, smell, feel, taste, understand, enjoy, be stimulated by, be involved in, find refreshment in, find satisfaction in, find fulfillment in, experience reality in, be agonized by, be pleased by, enter into, but which they could not produce themselves. Art in various forms expresses and gives opportunity to others to share in, and respond to, things which would otherwise remain vague, empty yearnings.
Two things from this paragraph ring my bells. First, the idea that art allows us to make ideas and feelings available to the five senses.
As far as I know, Christians have always reached for the arts to teach and encourage each other. (Use of music goes back even further, into Jewish worship.) This is entirely appropriate when you remember that our lives happen at the spot of friction between physical world and unseen glory. Jesus is entirely God and entirely man. The Bible begins with God and mankind together in a garden, and ends with the promise that heaven will come to earth, and God's people will live with Him again. Our faith is built on truths that cannot be tested with the five senses, yet require the response of our whole selves. What could be more fitting than the use of art to outwardly express these inward and spiritual truths?
Second, art allows us to share in beauty we couldn't make ourselves. Again, this is a Christian value. Believers know that ultimate truth lies outside of ourselves, and becoming fully human means sharing in the ideas and feelings of others. We need other people, and they need us.
This is where the extra labor required to beautify our homes shows its worth. Children need exposure to beauty they couldn't make themselves – and so do we!
Buy hand-made doughnuts from a roadside stand. Watch movies about characters who have real feelings, virtues, and vices. Listen to audio-books that make the youngest child laugh out loud (maybe laugh along!). Or spin a CD with lively, hopeful music. These aren't items on a guilt list. They're opportunities for us to "hear, see, smell, feel, taste, understand, enjoy, be stimulated by, be involved in."
Together.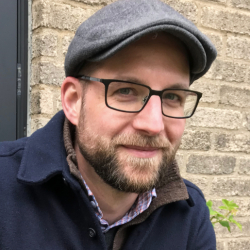 Latest posts by James D. Witmer
(see all)