I have often heard that stories affect us more like experience than fact, working their way down into our unconscious beliefs. This held true in my childhood reading, and Bill Peet's picturebook, Cowardly Clyde, is a great example of how.  Allow me first a quick outline of the story, why I still love it, then a few comments about how it affected me.
The story:
Clyde is a war horse. He is strong, handsome, and
"So skittish that even a cross-eyed silly old scarecrow gave him the creeps."
Clyde is the unfortunate property of a young knight with more self-confidence than sense. So when a "giant owl-eyed ox-footed ogre" begins terrorizing the countryside, Sir Galavant's dreams – and Clyde's nightmares – come true.
I love:
Peet's narrative voice. It is idiomatic and doesn't shirk on vocabulary, yet it feels natural and is easy to follow. I remember working out the meaning of several new words by context, and my delight in learning that startled ogres say "Whurf!"
Peet's illustrations are just as evocative. They feel realistic, but in mood, not detail. I still love how flipping the pages moves me step by step from a sunny meadow deep into a gloomy forest, then back out again. The early pages, with peasants fleeing in caravans down dirt roads, and a barn torn open from above, convey a chill of danger that many movies depend on their scores to provide.
And yes, the ogre is ugly. Real ugly.
The story hinges, of course, on Clyde choosing to do what must be done, despite feeling terrified.  It's a good lesson. But what really stuck in my childish imagination was how the ogre died: by exposure to sunlight.
"An owl-eye monster who thrives on darkness and gloom can't last ten seconds in the bright sunlight."
This "experience" helped create in me the belief that evil is unsustainable. That, in the end, the mere existence of light will banish darkness. And it somehow lodged deep in my subconscious. How deep?
Well, they say that almost everyone dreams about falling from impossible heights. They also say that if you ever hit the ground in your dream, you will die in real life. But they're wrong – I've done it hundreds of times, and I've been doing it since childhood. I always land on my feet. And even though my childhood dreams were well-populated by monsters, my nightmares nearly always turned out well. For as long as I can remember, I have been confident that things turn out right in the end.
Being grown-up means learning that the end is further away than I wish. But every time we pray "Our Father," every time we share the Lord's supper, we anticipate this very truth. The end is coming, and the owl-eyed monsters of sin and shame, devils and disease, won't last ten seconds in the light of Christ.
I know it takes a strange mind to connect a hapless horse with the great Story of eschatology,  but it is an example of what good stories can do, and the ways they can stick with us. I'm thankful for storytellers like Bill Peet.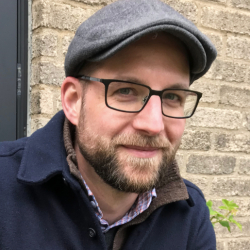 Latest posts by James D. Witmer
(see all)