From the Bible – Exodus 16:1-21, Deuteronomy 8:3
Today's Reading:
God rescued his people out of Egypt, and then he led them across the desert, toward the promised land. So, do you think they were happy? Wouldn't you be?
Well, they were at first. They even had a big dance party! But after a few days, their food started to run out. The Israelites started to get hungry! And right away, they began to believe a big lie, and tell it to each other:
"God doesn't love us! He led us out here to starve to death in the sand! I want to go back to Egypt and eat onions!"
They wailed, "God should have killed us all in Egypt. At least then we could have died with full bellies!"
God was sad and a little angry that his people were believing the lie, even after all he had done to show he loved them. But he didn't give up on them. He didn't leave them in the desert, and he didn't let them starve. But he didn't take them back to Egypt to eat onions, either! Instead, God gave them something they never expected—bread from heaven.
It was real bread, the size of cereal flakes, and it tasted like honey-sweetened biscuits. It appeared early in the morning, laying all over the ground, and melted away when the sun got hot. The first time the Israelites saw this bread, they asked each other over and over, "What is it?"
God had told them that he would send bread from heaven. But it was so different from what they expected that they didn't recognize it. They asked each other, "What is it?" and then they said, "It is what?" And so they named this bread from heaven "manna," which, in their language, was kind of like naming it "whatchamacallit," or "thingamabob."
God sent manna to feed the Israelites every morning for forty years! He wanted to show them that they needed more than bread to live—they needed God! They needed him to care for them, and to rescue them every day from their sin and selfishness, just like he rescued them from Egypt.
You see, when the Promised Rescuer did come, God sent him like bread from heaven. Everybody was expecting a different sort of rescuer, so almost no one recognized him. But like the manna, he fed God's people in the desert. And he showed them just how far God would to go to rescue them. It was further than the promised land, further than across the desert, further even than life and death. And it wasn't to save their lives for forty years, but forever.
—
You can download the complete Family Advent Art and Reading Guide or just download the art for printing and crafting by clicking here.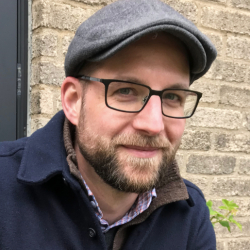 Latest posts by James D. Witmer
(see all)