Last fall my boys and I made an early morning run to the dollar store to buy 21 balloons. We ended up standing behind the counter helping the lone, frazzled worker with our unusual order. One cut the string, one tied the string, two held our growing bunch of brightly colored balloons. When we got home we tied them in groups of two and three onto the backs of the sunroom chairs. That being done we were ready to welcome our book club friends in to wrap up the discussion of –can you guess the name of the book? – The Twenty-One Balloons!
As the kids – ranging from 3rd grade to 6th grade – lead themselves in a rather raucous discussion about the conclusion of the book, I couldn't help but smile as I watched and listened from afar. The sight of my sunroom filled with kids and balloons was a happy one indeed. The sound of kids talking and laughing, enjoying each other and enjoying literature, was music to my ears.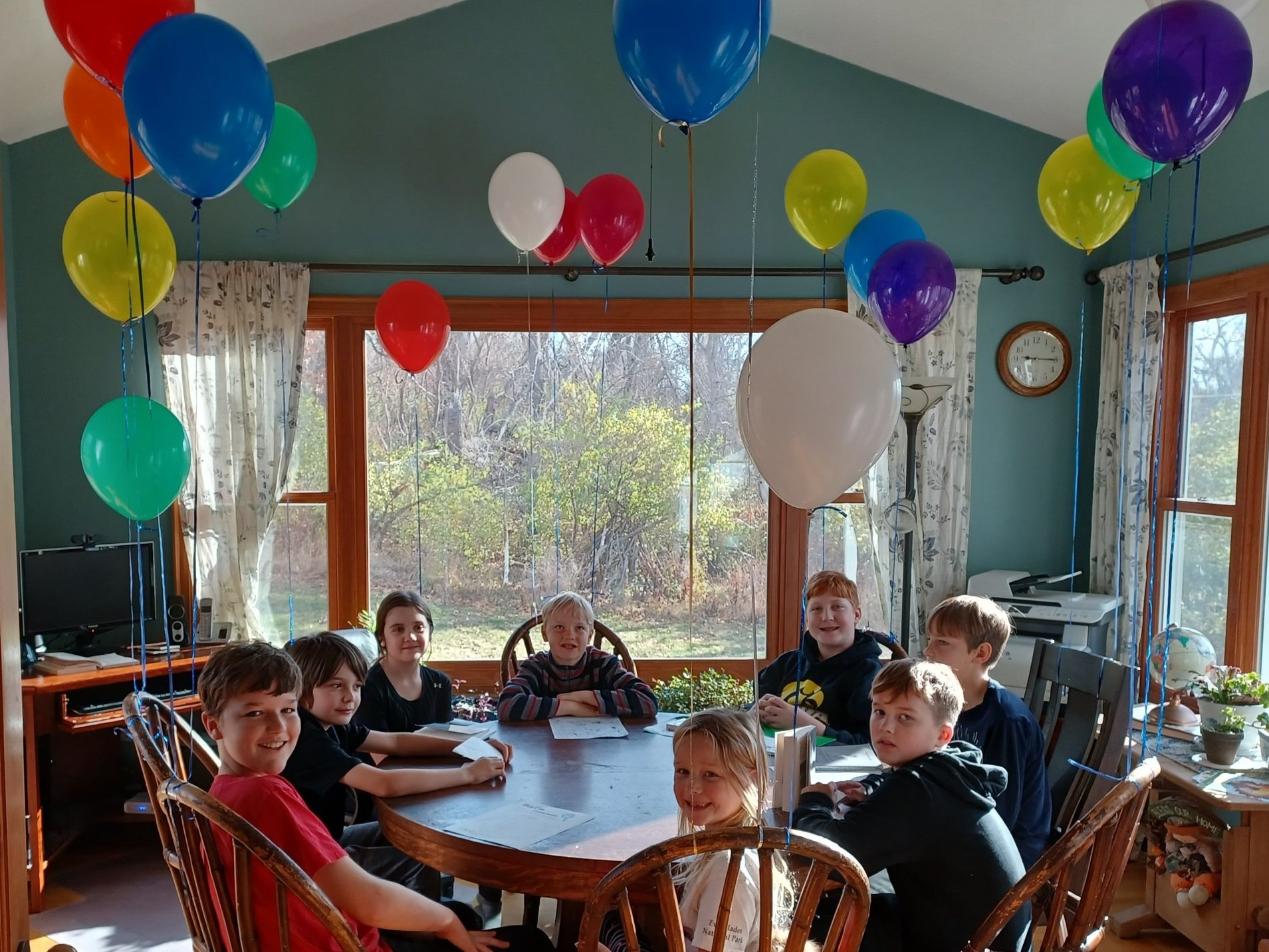 Since my student teaching days many moons ago, book club has been my favorite way of engaging kids with others and with story. The benefits include the schoolish things you would expect (comprehension, vocabulary, ability to articulate opinion, etc.), but they also reach far beyond that. A call to responsibility, a sense of belonging, and a stirring of compassion are all wrapped up in the wonderful package deal that is book club. I've seen these benefits come to fruition in both classroom and homeschool settings, with peers, with mixed aged groups, and even with multi-generational groups.
Book Club with Grandma and Grandpa
In the middle of COVID quarantine days, a virtual book club was a great way to connect with my parents. Picture my three little guys lined up in front of the computer camera with their prepared work in hand, ready to discuss the book we were reading. Having Grandma and Grandpa as part of the group gave the assignment a little more weight; this wasn't just us talking amongst ourselves; it was a book club.
We especially liked when Grandpa had the role of connector. The connector's job is to share thoughts or ideas of how the book connects to other literary works, movies, places, cultures, or–our favorite–personal experience.
The theme of our book, Little Dog Lost, reminded my dad of how his dog, Spike, had found his way into their family. We were mesmerized as my dad told us the tale of Spike tumbling out of a load of corn being delivered to the grain elevator where my grandpa worked. As I looked at my boys listening with rapt attention, I whispered a prayer of thanks that our little book club had drawn the sweet story out of my dad's memory bank.
For her part, my mom is a gifted encourager and a great person to have in any group. She praised the work my boys did and was wowed by their deep thoughts and observations like only a grandma can be.
The Format
Whatever the demographic of our group, the simple format we have adapted works like a charm. I have taken what I like best from a few different methods and have created a basic plan that is straightforward and user-friendly.
Each participant has a clearly defined role–Discussion Director, Connector, Literary Luminary, Wordsmith, Illustrator, or Summarizer. Each role comes with a worksheet that guides the participant through the process of preparing for the discussion. The next time the group meets, everyone switches roles.
The specificity of each assignment has proven to be far less intimidating to most kids (and adults!) than a vague directive to "come ready to discuss the book." When each member brings their unique contribution to the table, a fruitful discussion is sure to unfold, followed closely by a sense of "look what we did" that bonds the group together, creating a safe place to share thoughts or opinions that come from a raw and tender place.
Emblazoned in my memory is the day my oldest was brave enough to share that a certain scene made "his eyes watery." This tender confession was met with understanding and agreement amongst the others. (The scene in question from Little Dog Lost chokes me up every time, too.)
Tools to Get you Started
Anyway you look at it, Book Club offers a great many benefits to all involved, and all you need is a set of the worksheets and a great book to read. If you'd like to get your hands on the worksheets that we use to guide us in each role, you can find them here in the free resource library at Season of Wonder. There you will also find a book list of some of our favorite Book Club books to get you started. 
Happy Reading!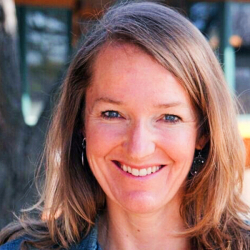 Latest posts by Rebecca LeVake
(see all)