In 2017, we planned a trip to Rocky Mountain National. Park. In the weeks leading up to the trip I sought to instill in the kids a focused, mountains-are-amazing-and-we-can't-wait-to-see-them mindset. I had no desire to spend an entire day driving cross-country only to have the kids too busy whining "Are we there yet?" to notice the snow-capped peaks as they appeared on the horizon. Nor did I want to hike to a magnificent mountain waterfall only to have them miss the majesty because they were too busy complaining about achy feet. On this trip, my hope was that "wow" would be the prevailing attitude, not "whatever."
So we sang songs about mountains. We memorized Bible verses about mountains. We studied maps and did mountain art work. And to top it off, I would amuse (or annoy) us all with random and enthusiastic proclamations like "I can't wait to see the mountains!" or "Won't it be so amazing to see the mountains?"
Finally, the big day arrived. As the miles between Iowa and Colorado were swallowed up in the flatlands of Nebraska, nagging doubts began to fill my mind. What if the mountains don't live up to the hype? What if we are about to experience a whole bunch of "whatever?"
When the terrain made its shift from prairie to foothills, I realized I didn't have a thing to worry about. The kids were already amazed, and as we explored deeper and deeper into Rocky Mountain National Park, jaws dropped and eyes popped at every turn. Of course the kids were wowed. Is there any other possible reaction when scenes like this stretch before you?
In the shadow of these towering peaks my efforts to build up the mountains seemed small. Yet I wonder…perhaps the "let's-be-wowed" campaign did make a difference?
I had traveled to Colorado before and remember being impressed by these massive mounds of earth and rock, but not necessarily moved by them. My goal then had been to see the mountains, and I did.
But this time, the Rockies rocked my soul. It's as if the anticipation of beauty—the expectation of being wowed—paved a path between my eyes and my soul that was rich in wonder. My goal this time around had been to be amazed by God's creative power, and I was.
I realize, looking back, that I have not taken quite such a methodical approach to preparing for the "wow" of trips since then. The pragmatic side of homeschooling has slipped in and kids have been busy writing reports about the flora and fauna of certain National Parks or researching our hiking trail options. Those have been good activities, activities designed to prepare their minds for what they will encounter, but I realize now that to be truly prepared to recognize and receive wonder as it unfolds before you, the imagination must also be stirred and a longing for beauty ignited. We must wonder about the wonders we will experience.
In this simple concept lies the key to not only a trip filled with a little more "wow" and much less "whatever," but also to a life that is filled with wonder. The truth is that if we expect to see the beauty and blessings around us as we travel as well as those tucked into the folds of our everyday life–if we actually look for them–we are much more likely to find them. Be ready to be wowed.
The whole earth is filled with awe at your wonders; where morning dawns, where evening fades, you call forth songs of joy.

Psalm 65:8
Some tips to engage the mind and spark the imagination as you prepare to travel:
1) Read books about people who live in the area you will visit. Consider how it is different or the same to where you live? Discuss the pros and cons of living there.
2) Do artwork depicting the kinds of things you will see (mountains, oceans, etc.). Talk about what this aspect of creation tells us about God. What can we learn about God, "the artist," when we look at this part of creation?
3) Look at maps. Even better, draw a map of the region, country, or even the entire earth by looking at other maps or using "Draw the World" series by ARTK12.. Not only is this a meaningful geography lesson for kids, it helps get a better view of God's big world and their small place in it.
4) Memorize Bible verses that mention the kind of terrain you will be visiting. The Bible often uses things like mountains and oceans as metaphors to deepen our understanding of God or as springboards to praise. Hidden these words in your heart allows you to be ready to respond when your own words fail you as you stand before a majestic scene. Psalm 36:5-9 is a passage that covers all the bases!
5) In the days or weeks before you travel, talk about the trip as a family–perhaps at dinner or bedtime. Ask questions like"What do you think it will be like to be…?" or "What are you most looking forward to seeing?" In this way you can share your own excitement and stir the longing in them for the beauty you are about to behold.
Great wonders await! Happy Travels!
---
Featured photo by Rebecca LeVake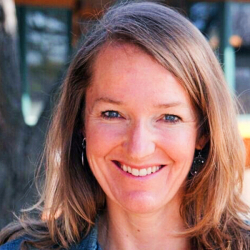 Latest posts by Rebecca LeVake
(see all)