Usually Fridays at Story Warren are reserved for "shorts" — fun little stories and poems to share with the young ones in your life. In the spirit of masquerades, today's Friday post is a Wednesday post (a recommended resource) wearing a disguise. If you're a guest this year at our annual October 31st bonfire, you just might be pulled into a game with some of the pictures below. Why not try it yourself this weekend? And if you enjoy it enough, you can buy the book. Happy storytelling! — Kelly 
If you have ever read the Christmas classic The Polar Express, you are familiar with the illustrating genius of Chris VanAllsburg. His beautiful artwork has always delighted my family, and the kids love to hunt for the little white dog in every book.
A lesser-known work of VanAllsburg's is one we like to take out when our creative writing juices have run dry. The Mysteries of Harris Burdick is a collection of fourteen separate black and white images, purportedly from a set of children's books that were never published. The book begins with an introduction explaining the origins of the drawings:
Thirty years ago a man called at Peter Wenders's office, introducing himself as Harris Burdick. Mr. Burdick explained that he had written fourteen stories and had drawn many pictures for each one. He'd brought with him just one drawing from each story, to see if Wenders liked his work…. The artist agreed to bring the stories the next morning. He left the fourteen drawings with Wenders. But he did not return the next day. Or the day after that. Harris Burdick was never heard from again.
The images each contain the title of the story they're taken from, and a line from the story. Here's an example:
This story was entitled "Missing in Venice." The caption is "Even with her mighty engines in reverse, the ocean liner was pulled further and further into the canal."
Do you catch the concept? Now it's the kids' job to furnish the missing story. What happened? How did we arrive here? Mr. Burdick has disappeared, so now it's our task to supply the tale.
This one always makes me giggle — what happened to this poor sister?
The Seven Chairs
"The fifth one ended up in France."
Harris Burdick has spawned a whole family of stories. There is a website where kids can submit their Burdick stories and perhaps win the portfolio version of the book. In 2011, a sequel of sorts was released, entitled The Chronicles of Harris Burdick. That book contains stories from (among others) Stephen King, Lemony Snicket, and Chris VanAllsburg himself.
I've used these pictures many times for creative writing prompts for students. Kids love them.  Those of you with young ones, beware — there are some scarier images. You may want to wait on this book for those of a tender age. But with magical pictures like this, not every story needs to be scary:
Another Place, Another Time
"If there was an answer, he'd find it there."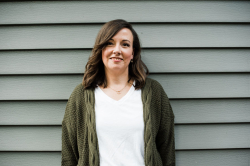 Latest posts by Kelly Keller
(see all)