I recently finished Everything Sad is Untrue by Daniel Nayeri, and it is already one of my favorite books of the year. In the style of a true Persian story teller, he cycles back and repeats himself often, giving refrains and themes to the patchwork of stories he weaves together. That's what he calls it, lamenting: "A patchwork memory is the shame of the refugee." But Nayeri's family tales are rich and complex, compelling and beautiful. It is apparent he takes pride and joy in knowing and telling his family history, in imagining and describing the many colorful characters of his heritage. 
We may not realize it, but we understand ourselves and our families through the stories we tell of ourselves and each other. The characters, the settings, the big and small plots and conflicts and adventures: these shape us, and are shaped by us. My grandfather may or may not have kept a rainbow boa in his Brazilian attic to eat the rats, but everyone in my family believes he did, because he told that story over and over. Someone else may tell of his missionary work, his excellent preaching, but most of my memories of him feature a fierce, grumpy old man fighting the demon of Alzheimer's. My eight and twelve and fifteen year-old self saw him as such, and that's the story I told to myself. That's the version I remember.
My memory is also patchwork, in a different way. My version of my grandfather is one tiny facet of who he was, and without the other stories, told by those who knew him better, my understanding of him is incomplete and skewed. I need to hear their stories, their versions and experiences, to shape my memory into something more whole.
But, reader, I cannot tell you the names of my great-great-grandparents, or anything about them. I found myself longing to know about their lives, as I read Nayeri's poetic family fables. He never met his great-great-grandparents, but he knew their stories, their loves and choices, their actions and consequences. His family told these to one another, over and over again. They found belonging and comfort, humor and lessons in the twisting tales of sorrow and joy that made up the lives of his ancestors.
Perhaps my great-great-grandparents did not have the emotional capacity to recount their lives to their children, or perhaps they didn't see the value in it. Perhaps they were so busy trying to make a living and keep their families fed that nothing mattered but survival. Perhaps they did tell their stories, and they have been forgotten. I may never know.
Twelve-year-old Daniel tells his family's story from generations, making sense of himself and of his past. May we all have such a gift, or at least access to these tales. But even if we cannot see into our own past, we can give that gift to the future.
Tell your stories, parents. Tell your stories, grandparents, aunts, and uncles. Tell the one about when you and your friends spent the night in an abandoned house you were sure was haunted, and about the summer you broke your arm twice. We want to hear about your first day of first grade, about your favorite dress when you were nine, and how your mother scraped every tiny bit of chicken off the bones to feed six kids. Tell us about how you had to teach yourself how to ride a bike because your parents weren't available, and about when your aunt shot the neighbor's dog because she thought it was a wolf. Painful, embarrassing, funny, or purely quotidian — please, tell us! We want to hear these. I promise.
Even better, write them down. Take your time. Tell your story.
We are made for story, born into a Story, and each of our lives is a beautiful and complex thread within the greater one God has been telling since time began. Tolkien, Enger, and Tolstoy all resound within our bones because we know them to be true, because we are made of stories. Characters, plots, settings, themes, endings.
Pause. Tell yourself that: I am made of stories.
Stories of our own lives, and of the layers and layers of experiences and memories of those who have gone before us. I exist because a jealous suitor managed to break off my grandmother's engagement to another man, and she later ended up with my grandfather (not the jealous meddler, don't worry). It is quite a dramatic tale, and it's part of mine. I'm so glad my parents uncovered it in the attic, and told it to me. Now I can tell it to my children, and they to theirs. It's part of their history, too.
When we give dignity to our own stories, to those of our parents and grandparents, and to the telling of them, we show our kids that their stories, too, have resounding worth and dignity. I want them to know that their stories matter. I want them to be able to tell their own comedies and tragedies — and also to know how they fit within the greater thread of their family narrative, and within the Great Story that God is telling in the world.
We all have somewhat patchwork memories, but we can work to weave these fragments together. Together. For the joy of human love, for the joy of seeing the threads God weaves together over generations, for healing from past wounds, for the uncomfortable joy of being seen and known, for the sheer pleasure of laughter and community — dear reader, please. Tell your story. It matters. 
---
Featured photo by freepik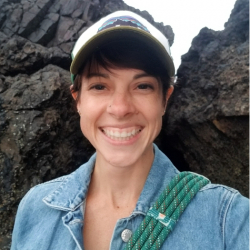 Latest posts by Millie Sweeny
(see all)