We at Story Warren believe heartily in the power of music to steer the atmosphere of the individual and a family. We've told you about Slugs & Bugs, Rain for Roots, The Corner Room, and other favorites. Today I have a new name to add to your list: Michael J. Tinker.
I met Michael and his wife, Jo, at dinner one night at Hutchmoot 2019. They were on a grand tour of portions of the US and had made the conference a non-negotiable on the list. It is easy to see the congruence of Michael's vision with that of our buddies at the Rabbit Room. He says on his website, "Every time we create – whether it's a piece of music, a work of art, a landscaped garden or even a pie – we reflect the one who made us and what we were made for…."
And create he has! Michael has released four children's albums to date. Prior to that, he was recording music for grown-ups, both as a solo artist and with his trio, Bright Season (which, as of this writing, just got added to my fall playlist).
Michael's most recent recording for families, Mission to Dendros, was co-written by author Tim Chester (A Meal With Jesus, Enjoying God, You Can Change) and features Ron Block of Allison Krauss and Union Station fame. Mission to Dendros is music plus space-themed story: it runs alongside a 7-part audio drama, plus there's a comic book to enjoy. The Topsy-Turvy Kingdom, one of Michael's prior releases, uses a jungle theme to relate stories about Jesus from all four Gospels. This is where you'll find one of my favorite songs, "Come and See." (video below) Both of these showcase Michael's willingness to be silly and seriously joyful at the same time.
Michael's heart for excellence in his music is apparent as he lists goals for artistic family ministry:
Taking theology seriously
Taking art seriously
Taking children seriously
These are all praiseworthy goals to be sure, but that last one stuck out to me. So often children's music underestimates children's ability to grasp difficult stores and concepts from the Bible. I love the idea of "taking children seriously" — both in their ability to teach us things and their ability to understand.
Michael and his wife, Jo, live with their three children in the Peak District of England (Fun Fact: Michael tells me this is where the Westley and Buttercup chase scenes from The Princess Bride were filmed!). As an artist accustomed to doing live shows, Michael has of course been affected by the covid-19 pandemic; you'll see in the margin of his website: "no shows booked at the moment." But if you'd like a closer look at his heart for kids' ministry, check out his youtube page. Michael recorded close to eighty live streams for young children during the spring of 2020.
You can get to know Michael's music and ministry better at his wonderful site or find him on Spotify. Your kids can even join his fan club or pick up something in the shop. If you're in the UK, watch for dates to spring up once it's safe for us all to enjoy live music together again.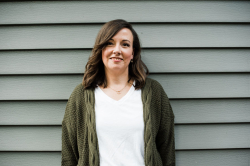 Latest posts by Kelly Keller
(see all)