In any friendship, one person will challenge the other. Glenn McCarty's new book, Horace and Oscar Visit the Lake, features just such a friendship.
Horace, the stuffed rabbit, longs to discover where colors come from and to see the world outside the nursery and past the yard. Oscar the toy giraffe, on the other hand, is content and comfortable in their nursery home. The mere thought of leaving gives him the shivers.
When Horace insists on an adventure, Oscar reluctantly agrees to accompany him to the lake. But when they get separated, Oscar realizes just how much the adventure, and his friendship with Horace, mean to him.
McCarty employs vivid language which gives Horace and Oscar Visit the Lake a classic feel with great read-aloud-ability. And with just three chapters, this sweet story can easily be read aloud in just one sitting. Adorable black and white spot illustrations punctuate the chapters.
Emerging readers may find the sentence length and vocabulary a challenge, but the short length may make up for that. But, in my opinion, this story will shine best as a read-aloud for families with young children.
Fans of Winnie-the-Pooh and Toys Go Out will find this an engaging read about friendship and trying new things.
Get Horace and Oscar on Amazon!
---
Editor's Note: Horace and Oscar was illustrated by the talented Janna Mattia. You can find more of her delightful work at https://www.instagram.com/jannamattia/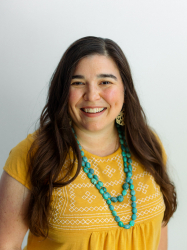 Latest posts by Carolyn Leiloglou
(see all)