On Friday, April 27th, Randall Goodgame and the Slugs & Bugs team are releasing Sing the Bible With Slugs & Bugs 3!
If you've heard Slugs & Bugs and Lullabies, Slugs & Bugs Under Where?, Sing the Bible With Slugs & Bugs, Sing the Bible with Slugs & Bugs 2, or Sing the Bible Family Christmas you probably just want the link to order it: http://www.slugsandbugs.com/store/
You're welcome.
If you haven't yet experienced the musical delight that is Slugs & Bugs, please read on.
I could recommend Sing the Bible With Slugs & Bugs solely on the grounds that it is a great blessing when families learn Scripture by heart. As a purchaser of all the Sing the Bible albums (including a Kickstarter pre-order of Sing the Bible 3), I could tell you about long drives made cheerful by singing encouraging words of Truth, mile after mile, or the recurring surprise (and parental delight) of a child saying, "That reminds me of where the Bible says, [insert Sing the Bible verse]."
It's also tempting to describe Slugs & Bugs in terms of what it WON'T do – "Children's music that won't make you want to stick a fork in your eye," for example. I could bemoan the terrible state of contemporary children's music: the forced or threadbare melodies, the inane lyrics, combined with an awful tendency to lodge in your brain for days at a time. Then I could assure you that Slugs & Bugs is better! Really! But that doesn't do justice to Goodgame's songwriting.
Take for example a song from Randall's next most recent album, Sing the Bible Family Christmas. "When The Fullness Of Time Had Come," is a verbatim rendition of Galatians 4:4-7, and it showcases Goodgame's uncanny ability to bring poetry out of prose. Just for fun, read it here:
Galatians 4:4-7 English Standard Version (ESV)
4 But when the fullness of time had come, God sent forth his Son, born of woman, born under the law, 5 to redeem those who were under the law, so that we might receive adoption as sons. 6 And because you are sons, God has sent the Spirit of his Son into our hearts, crying, "Abba! Father!" 7 So you are no longer a slave, but a son, and if a son, then an heir through God.
It's a great passage. But do you hear the rhyme and meter? I sure didn't, until I listened to the deceptively simple-sounding melody Goodgame used to make Paul's verbose, run-on style downright catchy. As my seven-year-old boy said, "I like how the song repeated the words to help them get stuck in your head."
This is a display of formidable talent that Goodgame has brought to every single song for five albums (including this one). But the ability to find music in the text, instead of wedging awkwardly-shaped lines into predictably-produced "songs" (not pointing any fingers, here) is only one of his strengths. He also writes really good melodies, in many styles.
My kids' favorite song is from Luke 18, and it features a melody that sounds almost as timeless as Ring-around-the-rosie or I'm a Little Teapot – only infused with a bright, vibrating joy. My nine-year-old said, "I like the bounce in it. It's a really fun song!"
My favorite, though, is from Matthew 5:1-12; a musical rendition of the Beatitudes that, at one point, surprised me by raising chills down my spine because of its sheer beauty.
I don't believe I can adequately explain the alchemic perfection you'll find in Sing the Bible with Slugs and Bugs. If you like music at all – or even if your kids like music, and you're longing for some that won't drive you outside – head over to Goodgame's store on April 27 and place your order for Sing the Bible with Slugs & Bugs 3.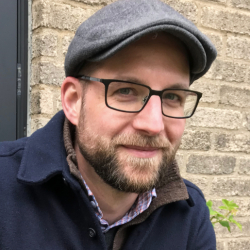 Latest posts by James D. Witmer
(see all)