I recently attended a young man's sixteenth birthday party. The highlight of the night was a video in which his dad & mom shared open letters, noting his growth and maturity, praising his successes and expressing hope and confidence in his future.
They have good reason to be hopeful. This young man is off to a terrific start. In addition to his schoolwork he runs a profitable lawn-care business, runs long-distance races (often with his dad), and is an accomplished musician. More importantly, he loves spending time with his family; long, wide-ranging discussions at dinner, working or just playing with his younger brother, and frequent coffee talks with his dad.
At the party, it struck me that neither parent seemed surprised he was grown up all of a sudden. Neither was taken off guard by his young adulthood. Instead there was a sense of arrival, as if they were saying, "Here we are together, in the place we've been journeying toward."
They had been imagining this all along, loving and training their little boy not to be a good little boy, but to be an admirable young man.
There is another type of parent: one who encourages no one, yet loves to give advice. I call them the "You-just-wait People." They delight in telling new parents, "Oh, yes, kids are cute when they're so small and cuddly. But wait until the terrible twos! You'll go crazy!"
"Yeah, it's sweet how kindergarteners want to tell you everything they think. But just wait until they're teenagers! All they want is to get away."
I challenge us NOT to wait. Don't "just wait" until your daughter is a teenager – look at your hyperactive, mop-headed four year old and imagine. Imagine that she is fifteen.
She not only knows what she wants, but can defend what she thinks in full sentences. She's starting to look like her mamma in startling ways a little girl cannot. And boys – clumsy, brash boys, with a vaguely sinister smudge of peach fuzz on their upper lips – are noticing.
Imagine: what do you want to say to this young woman? That she is beautiful just as she is? That if she leans into her faith, and your love, she won't need the approval of the popular crowd? That you will always, always have time to listen, and you'll try harder than any boy to understand?
Imagine what you want so desperately for her to know at fifteen, at 22, and you will know what to say to her today.
This is not "Tiger" parenting, sacrificing childhood and relationship on the altar of "success." Imagining our children in maturity should not keep us from enjoying their youth. In fact, imagine your son as an 18 year old man, get inside his head, and you will quickly realize that he has been his own man all along. After 18 years, the shape of your relationship is set like concrete, malleable only with great effort.
Imagine how it would feel for your daughter to be brushed off, hurried along to bed, or chore time, or school until – after she has found friends who listen, learned to do without your deep interest in her – you realize she is growing up and suddenly want to talk with her. Imagine how you would feel in her place. Would you want to open up, to trust someone like you?
Imagine, and you will see how vital it is to listen today.
To enjoy her today.
To tell him you believe in him today.
Imagine your children as young adults; as real people with hopes, a worldview, and character, and you will discover they have been so all along. Love them accordingly, and you may one day find your teenagers returning that love, eager to talk.
Imagine that.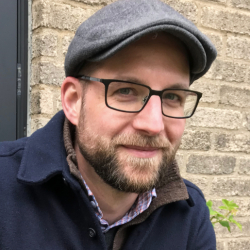 Latest posts by James D. Witmer
(see all)