Janet Izora was born in Paw Paw, West Virginia, in May of 1937, the younger daughter of Claude and Stella Jamison. During the autumn of her ninth year, she tagged along with her father for a day of hog butchering at the Kline place up on the hill. There she met Don.
Donny was ten, and he had no time for girls that day. He was busy feeding worms to his pet coon. But Janet was inquisitive and talkative even as a child. She trailed after Don asking endless questions until he whirled in frustration and shouted, "Go home, you old girl!" It was a mouthful for the reticent, blond haired boy. Janet's dark eyes flashed, and she snapped back a stinging retort before stomping away.
Thirteen years later Don and Janet married. Don went AWOL from the army for the weekend to make it happen. They were married for 63 years.
This spring Don watched at Janet's bedside as she died. Her last words were said quietly. "If you want to hold my hand, Don, you'd better come and hold it now." He did, and within hours she was gone.
Janet Kline was my husband's grandmother and my dear friend. We got the news she had gone while we were loading up the car to visit her and Pop for the weekend. We were staggered. It took days to process the shock before we could begin to process the grief.
Janet was a special person that shared smiles and laughter as generously as she shared her homemade rolls and cookies. She was a hard worker, a painter and a maker of quilts, rugs, and winter hats. Flowers grew for her where they grew for no one else, and she took delight in watching tomatoes ripen. She would peek curiously into the nests of songbirds, count their eggs and recount exactly when they hatched. She was known to kick her feet in delight at wholesome, silly things, play on the floor with toddlers, and scramble through woods to inspect her great-grandchildren's forts.
She understood forgiveness and was not afraid of dying, because she knew that she was kept. She loved her husband, Don. She loved her son and his wife, her grandchildren, and her great-grandchildren. She loved me, her "granddaughter-in-love."
When my eight-year-old daughter heard that Great Gran had died, she clung to me and said, "The world feels so much darker now. Where will the joy come from?"
I wish you could have known her.
Janet was 84 when she died, and she had recently been diagnosed with cancer, so perhaps I should not have been surprised by her passing. "For you are dust, and to dust you shall return." (Gen 3:19) But I was surprised. Less than a week before, her doctors had estimated that she had four months left to live. Four days is shockingly less than four months.
For Great Gran's sake, I am grateful. As an oncology nurse, I have walked the cancer path with others, and it can be a difficult road. Great Gran died quickly, peacefully, and without pain. It was the best kind of death. But still, it was death. It hurts, and I have so many questions – questions about life. And death. And God.
It seems reasonable to suppose that such existential questions should have deep metaphysical answers, and maybe they do. But if so, those answers do not reach me where I am today, here in my grief, in this world that is darker than it was yesterday. I need simple, straightforward answers – answers that I can sink my hands and teeth into.
Into this stinging grief, Jesus spoke this invitation: "Come, and see."
"Come and see," he said to Andrew, Simon Peter's brother.
"Come and see," he said to me.
So I walked through the stories recorded by John the Apostle, and over and over I was invited into moments dripping with ordinary. Real life and familiar happenings. Smells, sights, tastes and sounds that I understood, because I have experienced them in my own life. And I was amazed to find that in these tangible, commonplace things, God provided answers to my heavy questioning. Through food and sweat, birds and trees. Through the very things that Great Gran loved.
Come and See
Why is there not nothing, 
And how can heaven be more?
Come see a dove descending.
Hear the river's rushing roar.
Who can say when beauty's full,
And who says when it's gone?
Come feel the stinging whip of cords
Come hear a wedding song.
Am I seen, and do I matter,
Or have I pushed it once too far?
Taste the dirt mixed with saliva.
Slake your thirst at the woman's jar.
Will the way only get harder,
And is there no one kind?
Come feel the cloth and water.
Come taste the bread and wine.
When will I be ready,
And is life ever long enough? 
Come smell a garden heavy,
With sweat that falls like blood.
Who will show us any good,
Or is all goodness gone?
Come gaze upon a cross of wood.
Reach toward the open arms.
When is waiting over,
And how can I be brave?
Lay your hand upon the boulder,
Look into the empty grave.
Listen to a stranger, 
Roast a fish upon the sand.
Touch his scars with your own finger.
Feel the flame against your hand.
Sink your hands into the sod,
Lean into a springtime breeze.
Touch and hear that He is God.
Taste and smell. Come, and see.
---
Photo by wirestock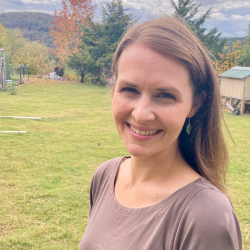 Latest posts by Melissa Kline
(see all)